Our Achievements
Exam Results
Due to the coronavirus pandemic and the subsequent cancellation of exams in Summer 2020, no performance data was published. The most up-to-date data, therefore, is the Summer 2019 results.
In 2019, we were delighted to appear again in the top 10% of all schools in the country for the progress students make from the end of Key Stage 2 to GCSE. Indeed, the school's 2019 Progress 8 score of 0.68 shows that students at Stratford Girls' Grammar achieve, on average, over two thirds of a grade higher per subject in their GCSE examinations than other students with the same prior attainment.
GCSE key statistics from 2019 are as below:
+0.68 Progress 8 Score

78.5 Attainment 8 score

7.49 EBacc Average Points Score:

82% entered the EBacc

98% achieved a strong pass (grade 5 or above) in English and maths
A-Level key statistics from 2019 are as below:
+0.05 Level 3 Value Added

15% achieved A* grades

40.9% achieved A*/A grades

73.8% achieved A* - B grades

A* the average grade of disadvantaged students
Destinations 2020
7 (7%) went to Oxbridge

7 (7%) went to study a Medical Dentistry Veterinary (MDV) course

83 (81%) went to their Firm university

64 (62%) went to a Russell Group university

1 student gained a degree level apprenticeship

4 students took a planned gap year.
Please click on the link for more detailed information on the school's GCSE performance from the Department of Education. This places us as the top grammar school in Warwickshire. The link to the post-16 performance (2019) from the Department of Education is here. You can access Ofsted's Parent View page for the school through this link. For details of the school's Pupil Premium expenditure, please follow this link.
What is Progress 8 and Attainment 8?
Progress 8 is a measure of the progress students make from the end of primary school to GCSE across a range of 8 GCSE subjects. It is a type of value added measure, which means that pupils' results are compared to the progress of other pupils nationally with similar prior attainment.
Attainment 8 measures students' raw results (attainment) across 8 key GCSEs including Maths and English.
Our results mean we are the top grammar school in Warwickshire in terms of progress.
School performance tables here
A-level results 2019
Headline figures
74 % A*/B (74% including EPQ)

41 % A*/A (45% including EPQ)

14 % A* (16% including EPQ)

21% achieved A* A grades in all subjects

Pupil Premium students achieved above expected levels of progress.
Of the 111 students sitting A-levels this summer, 44% secured A* or A grades and nearly three quarters of their grades were at A*, A or B, which marks another year of overall A-level success.

Headteacher Mrs Jacqui Cornell said: "We send warm congratulations to all of our students who have secured the grades they need to progress onto their chosen university or Higher Apprenticeship course. There have once again been many outstanding achievements right across the eclectic mix of our A-level students. As in previous years, the hard work on the part of our students and our staff has been rewarded.

In light of the national picture, we heartily congratulate all those (nearly a quarter of the cohort) who secured A*s and/or As across all of their A-levels and those who obtained their Oxbridge place. We are proud of what they have achieved and wish them well as them embark on the next exciting phase in their lives.'

Our top achiever was Inaam Shammoon (four A* grades) who is joined by our other top performers Eleanor Beckett, Caitlin Bryant, Maryam Ismail, Stephanie Musgrove and Josie Shipman – all with A*s across all three of their A-levels.

Our students have achieved amazing outcomes and when you combine these with the experiences gained from our extra-curricular programme, we wish them all the very best as they progress confidently onto their chosen destinations.
GCSE Results 2019
Headline Figures
80% achieved A*/A and 9/7

31% of all results were at Grade 9 - an increase on 2018 figures

28% of all results were at Grade 8 - an increase on 2018 figures

80% of all results were at Grade 9-7 - an increase on 2018 figures
80.% achieved grades at 9/7 and A*/A across all of their GCSEs. 31% were at a Grade 9 and a further 28% at a Grade 8: both an increase on last year.
Headteacher, Jacqui Cornell, said, 'We are truly delighted for all of our students as they receive their GCSE results today. Our students' capacity to outperform our previous year's results never ceases to amaze us. For many, their success is tied to a willingness and determination to be the best they can be. The SGGS family pulls together to reach these outstanding results; a big thank you and congratulations goes to all those involved – students, teaching and associate staff, and parents/carers. These outstanding results reflect our commitment to offer a broad and balanced education that meets the needs of today's bright young women. We are proud of our continued success as a school and because our students are now placed in the best possible position to access their chosen long-term destination: university, higher apprenticeship or the world of work. We look forward to welcoming the many joining us for sixth form and to celebrating their ongoing successes with them.'
Particular congratulations go to Isabella Azima who has achieved the highest score nationally for OCR's GCSE Music course and to the thirteen students who achieved eight or more Grade 9s. All of our students are heartily congratulated by the school on their outstanding achievements.
DESTINATIONS
With the increasingly competitive and fast changing higher education market, expert information, advice and guidance has never been more important.
As well as extension and enrichment organised by departments, our up-to-date and varied sixth form next steps provision includes visits from university admissions tutors and apprenticeship providers as well as one-to-one consultations.
The majority of our students go on to leading research universities, with 52% of girls taking up places at the Top 20 UK universities in September 2014. Over the three years 2011-14 inclusive, 92% of the girls taking up university places did so at one of 37 pre-1992 universities. Girls are also increasingly recognising the opportunities available through Higher Level Apprenticeships and we have links with Accenture, Ernst and Young and Jaguar Land Rover amongst other major global companies.
We are absolutely committed to helping all of our young people find their route to success and we are incredibly proud of all our alumnae.
At the bottom of this page, you can download and view the destinations over the last several years.
arkwright scholarship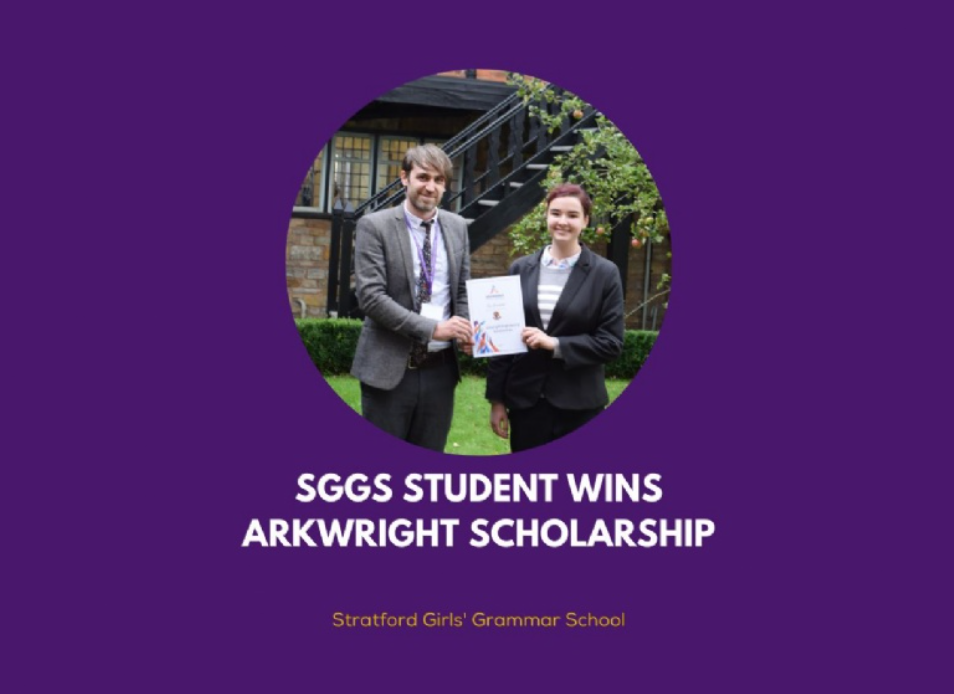 Stratford Girl's Grammar School student Jessica Greenwood has been selected out of over 1,200 entrants to receive a nationally recognised Arkwright Engineering scholarship.
The Arkwright Engineering Scholarships programme is run by registered charity The Smallpeice Trust and has awarded opportunities to young people in the UK for almost 30 years. It is the most prestigious scholarship scheme of its type in the country and every Scholarship is sponsored by a commercial company, trade association, university, professional institution, armed service, government organisation, worshipful company, charitable trust or personal donor. This means that support ranges from hands-on work experience, curriculum project support and personal mentors to aid with aspects of studies and future career planning.
The awards are open to students studying any combination of STEM GCSEs, Scottish National 5's or equivalent and who have a genuine interest in a future career in engineering, computing, or technical design. Thousands of students compete for a place on one of the scholarships available every year by submitting work and taking a two-hour aptitude exam, then if shortlisted, taking part in an interview hosted at a university.
Jessica, who is currently in Year 12, succeeded at interview and has attained one of the handful of scholarships awarded this year, in addition to receiving a £600 grant, a personal sponsor, a professional mentor and much more. Stratford Girls' Grammar School will also receive £400 for investment in their Design and Technology department as part of her achievement.
Unfortunately, due to the ongoing COVID-19 restrictions in place, there was no Annual Award Ceremony in 2020, but Jessica was still delighted to be presented with her Arkwright Engineering Scholarship Certificate and badge at school.
Jessica decided to enter the Arkwright scholarship to continue her passion for engineering and design. On winning the scholarship, she said, "I am hoping to go into science or engineering in the future, as my interests vary from AI and computer science to sustainability in the automotive industry. It means a lot to have won this prestigious scholarship because I am passionate about encouraging younger people, especially girls, into engineering and STEM. The funding will support both DT provision at my school and my own studies. I am really looking forward to getting started with my scholarship!"
Luke Price is Head of Design and Technology at Stratford Girls' Grammar School, he said, "Jessica has always demonstrated a real drive and determination to deepen her knowledge and experience in the field of Design and Engineering and is a real ambassador for STEM at our school, so for her to be awarded an Arkwright Engineering Scholarship is hugely exciting. This recognition is well deserved; she is an exceptionally talented student who has a very bright future in a STEM career. At a time where good news is a premium, it was wonderful to hear of her success, we are all so pleased for her!"
October 2020