Sixth Form Communications Committee's Report on Sports Day 2016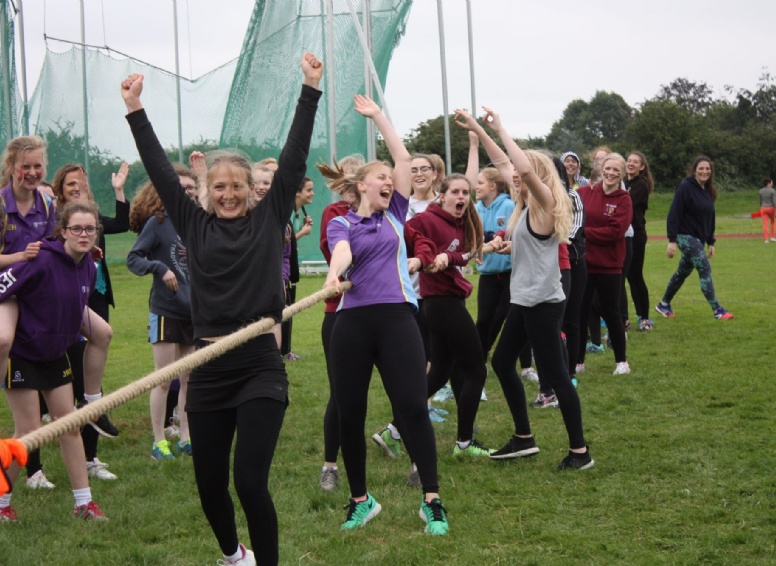 On Friday 15th July, Shottery girls celebrated the eagerly anticipated annual Sports Day. In an action-packed morning of track and field events, students, teachers and parents celebrated in authentic Shottery style. Though only one house could prove victorious, each and every girl demonstrated true team spirit and athleticism.
The festivities kicked off with a series of track events, ranging from 80-metre sprints to the more arduous 1500-metre race. Bella, a Year 12 student remarked, 'One of the things that makes Shottery Sports Day so unique is that participation is encouraged regardless of your sporting ability'. This comment was proven true on both track and field, with students trying their hands at discus, shot-put and javelin. Girls with all degrees of sporting experience embraced the community spirit - even if, admittedly, some were a little rusty on their discus technique…
Whilst the day undeniably promoted a sense of inclusivity, Shottery's inherent competitive streak made an appearance. With girls decked out in House colours and war paint, the cheers for their team mates could be heard throughout the school. Alice, a Year 7 student and winner of the 60m race, commented 'I was slightly nervous but winning felt great and the day has been lots of fun!'
In a blatant display of rivalry and unwavering confidence, Deputy Head Girl Issy Hardy remarked that she hoped Sports Day would finally give Phoenix House the opportunity to 'rise from the ashes and fly above all the losers'. Not to be outmatched, these brave words from Shottery's student leadership team were challenged by Mrs Bendle, current Head of Ursa who was celebrating her final Sports Day at Stratford Girls. 'Ursa is the House that can always be found competing. My bears never give up!'.
Although classic Shottery traditions (notably, the ice cream van) played a huge part in the day, 2016 was a year of new and exciting changes. This year saw Shottery's first teachers' relay race, in which departmental barriers were crossed and members of staff came together to win points for their houses. To round off the day, there was an inter-House Tug Of War competition, which put students and teachers under intense physical (and, for some, emotional) strain, but all in the name of healthy competition.
For many students, the highlight of the day was the commentary from the History department's very own Mr McAnaney and Mr Giles, delivered in their characteristically dry humour ('Lucy, you're running the wrong way', 'Anna, get off the track', etc.). They kept spirits high in the cold July weather, and reminded us all of the truly light-hearted nature of Inter-House competition at Shottery.
With more students involved than ever before, Sports Day 2016 was probably the best yet. The school came together to achieve a perfect balance between competition and community. In particular, the involvement of the staff this year truly lifted the event. We all look forward to assembly on Wednesday 19th July, when we will find out the winners of both the House cup and the Individual Sports Day cup.