Diamond Year 7 Readers Vote With Their Hearts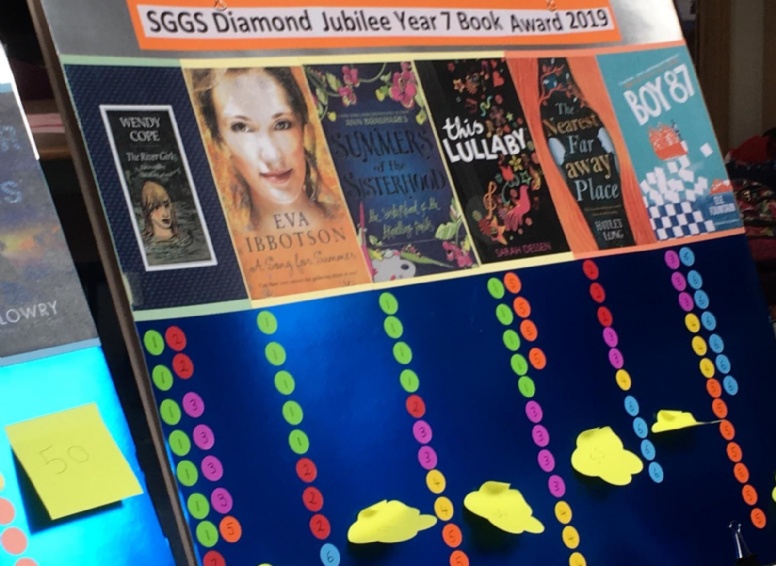 It's official: the best book written over the past six decades is
Ele Fountain's 2018 novel Boy 87!
This term, a gaggle of forty Year 7 book aficionados have been busily reading 12 of the best books written over the past six decades. Girls were invited to read as many of the published long list before voting on their all time favourite. The reading initiative, coordinated by librarians Mrs Formby and Mrs Kendrick as part of SGGS's inaugural Literary Festival, clearly tapped into an charged scholarly vein with conversations flying about which book was best and why.
Girls also produced some fabulous creative responses to their reading including a board game, models and even a fully scored lullaby for voice and piano penned by musically minded Eleanor Radden.
The Big Book Vote took place on March 4th with students being rewarded for their reading endeavours with certificates, sweets, chocolates and the pleasure of knowing that they had contributed towards the greater good of discussing great literature from across the past 60 years.
Confidently assisted by Sixth Form Librarians - the final vote stood at Fountain's Boy 87 on 128 points, Judy Blume's 1970s 'Are You There, God? It's Me Margaret' on 91 points and Sue Townsend's 1980s 'Diary of Adrian Mole Aged 13 3/4s' on 88 points.
Ms. Litterick, Head of English