Susan Frater, Joint Head of Drama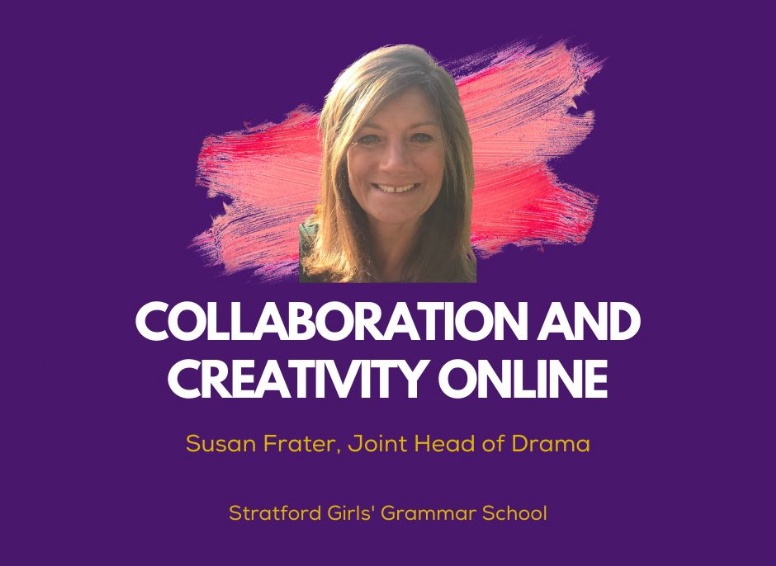 In our latest isolation blog, SGGS Joint Head of Drama Susan Frater, discusses how students and teachers of performing arts continue to adapt to the online learning environment.
Initially, when we went into lockdown in early March, I had a strange feeling of energy that made me want to do a million things. I found myself making endless lists and started a lockdown diary, full of pictures, cuttings and comments. However, when I settled down at my laptop to try teaching Drama remotely, I found myself staring at the screen - I just couldn't work out how on earth I would turn a highly creative subject that relies on people collaborating, into online lessons.
As a class, we started our own notebooks, gathering information, noting down phrases and working on something called Verbatim Theatre. Verbatim requires actors to speak only in exact words. They may be quoted from family, members of the public, politicians: any speech from everyday life transcribed directly into dialogue in a play. We realised that sharing these in chats on Microsoft Teams really helped make sense of what was going on around us. Gathering images, funny stories and discussing how quiet everything seemed in the early stages of lockdown felt quite therapeutic.
Generating buzz
Drama is all about collaborating and feeding off each other's creativity and suddenly this was starting to happen online. I started to feel less bewildered by our new online school and more inspired. I suddenly realised there were lots of actors and directors who could not work due to the theatres being closed, which has only happened a few times in history. I decided to contact some people at the Royal Shakespeare Company (RSC) and other contacts in the theatre industry. Dominic Cooke, who directed Ironbark starring Benedict Cumberbatch, and Alexi Kaye Campbell, writer of Woman in Gold starring Helen Mirren and Ryan Reynolds; both took the time to film and send messages with helpful tips on how to devise a piece of theatre and write engaging characters. This was followed by a video from Jacqui O'Hanlon, Director of Education at the RSC, who. shared some of her vast experience of what makes an exciting piece of performance art.
Suddenly we had a wider community of people sharing ideas and being part of the creative process. There was a buzz of learning happening all over again, just like I am used to in the Drama studio.
Performing social distance
The drama department came up with the 'Lockdown Playwriting Project' for Year 12 students and a few weeks down the line, we now have two plays almost completed. I have to say that I'm delighted with the work that's been produced so far. Some fascinating verbatim has been gathered and the characters in development are amazing. We are hoping to record at least one of the plays - a radio drama – that we will hopefully share with you all soon. We also hope to expand these pieces further when we are back in school. A new and interesting challenge will be writing and performing drama whilst maintaining social distancing, which could lead to some unusual staging and proxemics!
Meanwhile the rest of my teaching feels more manageable again too, with some amazing resources online that we have been tapping into in order to keep lessons as engaging as possible. Year 7 set designers have been handing in fantastic pieces of stop-animation Shakespeare and students in Year 10 are working on monologues using Microsoft Teams to give each other direction. It is encouraging to feel so much optimism about teaching at a distance when looking back at the moment I was sat staring blankly at my laptop. A lot of this optimism is certainly down to the enthusiastic responses from students at SGGS.
Entertainment at home
In my own world of lockdown at home, I've checked a few things off that enormous list that I've written and have many more that I would like to complete. I've joined a huge team of volunteers who are delivering supermarket surplus food to people in the local community who are self-isolating or struggling at the moment. On Thursday evenings, my neighbour has arranged a street band which has more than 17 people playing different instruments, all socially distanced, at intervals along the road - I've picked up my recorder that I used to play at primary school and I'm just about managing to keep up with the rest of those who are far more proficient than me! A small group from this band even surprised me on my birthday by playing an amazing rendition of Happy Birthday on my doorstep.
I have been more observant since lockdown began and everything slowed down. In my house, we are spending time trying to repair and mend things that we have been planning to fix for years, which is oddly satisfying. It's definitely enjoyable having a dog right now, although I think they are finally fed-up of going on long walks!