Rosie raises funds for guide dog training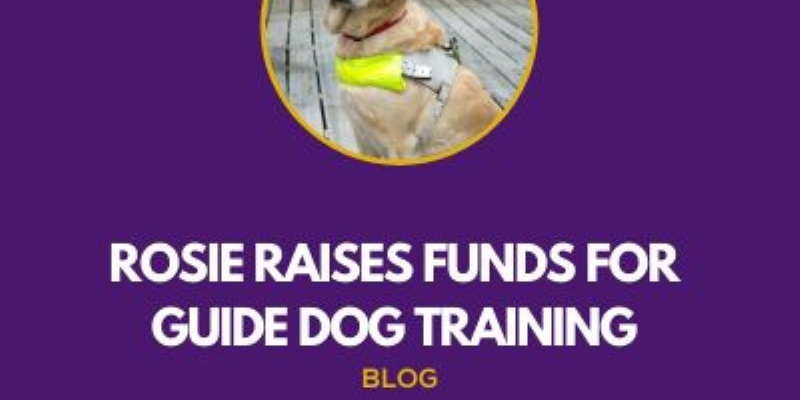 Over the past year, Year 9 student, Rosie Hanna, has dedicated her spare time to supporting The Guide Dogs Association by volunteering within her local community and independently hosting several charitable events.
In this week's blog, Rosie proudly showcases her inspirational efforts to fundraise £2,500 for a charity that is close to her heart.
Over to Rosie…
I first became aware of guide dogs three years ago when my family fostered and trained our first puppy during its early training, as part of our ongoing support for The Guide Dogs Association. My favourite thing about boarding guide dogs is seeing all their different personalities come out as they become more confident and the difference that is made the longer they stay with us. I've enjoyed seeing all the different characteristics of the 12 trainee guide dogs we've looked after since we began and it's especially lovely to see them settled with their new owners – it's as if they know they are there to help.
Since I was 11 years old, I've had a real passion for supporting this charity, who provide mobility for the blind and partially sighted. I have subsequently won several awards for my volunteering and fundraising within my local town of Leamington. My dedication earned me the Optimistic Award in 2020 and I was named runner-up for the Young Volunteers Award in 2018, both of which recognise individual's exceptional service to their communities.
Setting the bar high
For my latest project, I decided on a target of fundraising £2,500 and the opportunity to name a puppy before they begin their training. So far, I've sold Christmas cards, hosted bake sales and sold handmade face masks to raise £2,000 towards my goal. I have one year left to raise the remaining £500 and I'm determined that I will be able to achieve this with the support of my family and friends at SGGS.
I'm very passionate about dogs and my role as a volunteer. I'm especially grateful for the work they do for the visually impaired. The chance to name a future guide dog will be a privilege and something very important to me. For other students who are interested in volunteering for Guide Dogs or another charity, my main piece of advice would be to do plenty of research as there are so many amazing charities out there. Choose one that's important to you and where you believe you can contribute and support to make a difference. Don't be afraid of fundraising and putting yourself out there as it's all for a great cause and any money raised is an achievement.
Finally, a message from SGGS Headteacher, Jacqueline Cornell …
Congratulations to Rosie on her thoughtful and motivational accomplishments in support of The Guide Dogs Association. She has acted as a role model for the entire school community and we are very proud of all her commitments to this wonderful cause.