SGGS students achieve international sporting recognition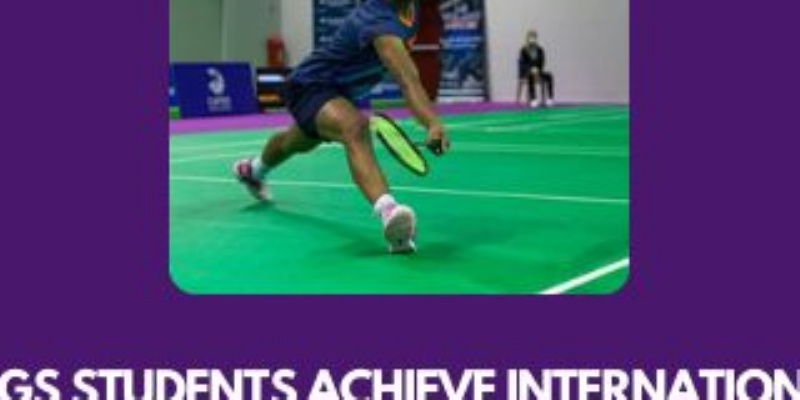 In this week's blog, we hear from a Year 12 student who has represented Team GBR at International Triathlon and a Year 10 student who has won a medal in International Badminton.
Up first, meet Charlotte Marshall...
Hi, I'm Charly, and I'm a Year 12 in Cygnus at SGGS. I compete in Triathlon, which is the endurance sport of swim, bike, run, in that order. I first began competing when I was 9, at the West Midlands series. I immediately loved it, even though I did not place highly. I loved and still love the community and camaraderie shared between all competitors. Only in my last year of TS3 (the oldest age group eligible for the West Midlands series) did I begin to get on the podium in races and start getting selected for larger events. I now travel all over the country to compete in the Youth Super Series, which is at the highest national level for my age group.
Taking part in the Super Series is how you get a national ranking and I have had my best season yet, leading to selection to represent England - West Midlands at the School Games National Finals as one of two girls selected for our region. This competition is a biennial major multi-sport event for talented young athletes from across the UK. It was a fabulous experience, getting to meet other young people from all over the UK with similar interests to me. Over the four days of competition, I raced in the heats and finals of an aquathlon (swimming and running), a figure of 8 skills test on the bike, a 10km bike in a pursuit format and a mixed relay race. Overall, I came 9th, the highest I have ever placed in a national-level event. For the relay, we competed in teams of four - one for each of the nation's Scotland and Wales and regions of England. Each of us completed a whole triathlon before tagging the next person to start their race by diving into the swim. Our team, representing the West Midlands, finished 4th out of 13 regions, so we narrowly missed out on bronze medals.
I recently competed in this season's final Super Series event (The Grand Finale at Mallory Park racing circuit) where I also came 9th (at least I am consistent!). This season's performances have also led to selection to represent Great Britain (youth) in the Super League Triathlon in Jersey on 17th September. This will be the highest level I have ever raced, and it is particularly exciting as the superstars of the triathlon will be competing on the same day as me in this event. Some of the British triathletes I expect to be there include Georgia Taylor-Brown, Alex Yee, Jonathan Brownlee, and Jessica Learmonth. I am hopefully going to be able to mix and train with some of these members of "triathlon royalty" as well as continue to compete amongst the UK's finest future triathletes. I also feel so lucky that I will be able to spectate an elite senior event for the first time.
Most youth triathletes competing at the elite level are members of regional academies, so I am unusual in this respect as I plan my own training programme without the benefit of being part of an academy. I was unsuccessful in selection for the West Midlands academy in late 2019 and with the pandemic, have had no further opportunities to apply. I think that experience strengthened my resolve to get stronger and faster. In terms of training, I am in control of what I do and when I do it, but it has been challenging to know how to optimise training and balance school and family life. I have always found everyone here at SGGS to be very supportive. I am also supported by my family and friends, as well as swim and run coaches. I am so proud of what I have achieved this year, as it is beyond anything I ever expected or hoped for at the beginning of the season coming out of lockdown.
I think my journey shows that if you enjoy something and show persistence and dedication, you can keep improving and achieving. My only goal at the beginning of all of this was to keep fit and compete in a sport with a great social side to it. I never expected to get to the level I am at, but now I want to keep going and see how high I can go. I love my sport and would strongly encourage anyone to have a go. There is competition at all levels, and it's really easy to sign up. I would be very happy to chat with anyone who wants to find out more!
In addition to Charlotte's performance, SGGS is also celebrating the recent success of Year 10 student, Varsha Kumar, who won a bronze medal whilst represented England in an international badminton competition.
Over to Varsha…
I was first introduced to badminton at the age of eight and have been competing ever since. Over these past five years, my enthusiasm and determination have meant I've been lucky enough to play against some of the best competitors in my sport and play in internationally recognised events such as the Under 17's 'Babolat' semi-finals in France.
My biggest ambition is to one day play for Great Britain in the Olympics and become the world number one badminton player in women's singles, which my friends and teachers at SGGS are incredibly supportive of.
Congratulations to Charlotte and Varsha for these achievements and the ongoing hard work and dedication they have shown to sport. We look forward to hearing about what comes next!