Voices from our LGBTQ+ community.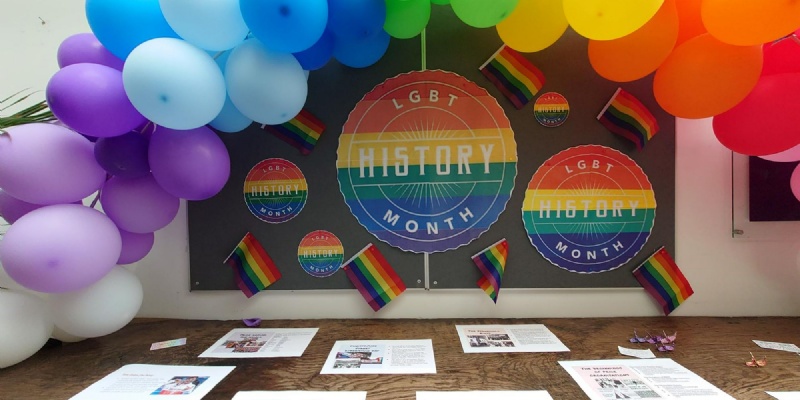 The LGBTQ+ group at SGGS in its current guise was established in 2011. It is run by Year 13s in support of students in Year 10 upwards. It focuses on raising awareness of issues and educating both the group and others on issues affecting them.
In support of the current leadership, the school supported the group's efforts to raise awareness in our community of LGBTQ+ issues at the end of the summer 2021 term and then this month, we have celebrated as a school LGBTQ+ History. We are proud to work alongside these young people as they strive to educate us and it informs how we as a school can develop to make this environment even more inclusive.
We asked the LGBTQ+ leadership group to share their experiences as a way to further inform the community of the challenges they face:
"Despite how we see discrimination reported and represented in the news, the media and many of the history lessons we are given, it is not always a moment of life-threatening fear in which we must choose to fight or submit. For many of us it is rather a wall built from daily microaggressions and simple acts of ignorance which follow us in every aspect of our lives. Naturally, violent attacks against the LGBTQ+ community are a dominant part of our past, present and inevitably our future, however it's also important to bring light to the issues which are consistently present in the everyday experiences of students both in and outside of school.
On the first of February this year, LGBTQ+ history month, a moment of celebration and education was disrupted by an act of homophobic vandalism. Unfortunately, this is not an isolated act, many of us have also been affected, whether directly or indirectly, by bigoted comments during our school career. We have been lucky enough to have had an overwhelmingly positive experience at SGGS with the active support of SLT members like Mr Hall and Mrs Cornell, but, as is the case in the wider world, there are always those who look to harass and hurt us. This means that the process of growing up and discovering who you are, discovering that you are different, often becomes daunting, however, the support of those around you can make this process a great deal easier and is vital to the wellbeing of LGBTQ+ students. Seeing yourself recognised and represented by your peers, as well as being respected by staff, is invaluable to young LGBTQ+ people as many of the people around us, whether real or fictional, reflect a societal expectation independent from the queer community.
In addition, a school with supportive leading staff members and the company of other LGBTQ+ young people can serve as a welcome refuge from a home life that may be less than ideal. There can be a lot of secrecy involved in growing up LGBTQ+, and the freedom to express our pride can combat the negative effects of growing up overshadowed by what often feels like a form of self-betrayal.
The ability to celebrate events such as LGBTQ+ History Month and Pride Month in school is so important for young people who can sometimes feel lost in their identity or their place in the world; remembering our history and those who paved the way before us shows us how to be brave, and how to go on fighting. 130 years ago, poet Lord Alfred Douglas wrote, of his relationship with fellow poet Oscar Wilde, "I am the love that dare not speak its name." We can speak now, and we will."