Design Technology
All students take Design Technology from Years 7 to 9 and can continue it to GCSE.
Can creativity, problem solving, ingenuity be taught? Without a doubt: in Design Technology.
YEAR 7: Vacuum forming, electronics and the design and creation of nets. The MP3 amplifier incorporates engineering processes, vacuum forming, soldering and the manufacture of a circuit board. Orthographic and isometric drawing techniques are taught and the girls learn how to draw a net to a professional standard.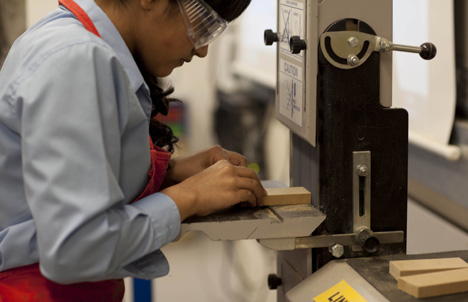 YEAR 8: Investigating mechanisms and mechanical systems. Girls make automata and develop their understanding of gear systems and other mechanical products. They use computer aided design using Techsoft 2D design and use an engraving machine as the process for computer aided manufacture.
YEAR 9: Plastics, composites, woods and smart materials are investigated, including commercial methods of manufacture. They design and manufacture a unique, decorative ornament. The girls develop their understanding of sustainable design and the moral and cultural implications of design. Their understanding of computer aided design and manufacture and design packaging using Techsoft 2D Design and the Roland CAMM1 is extended, and they are introduced to the potential of 3D printing.
Design Technology GCSE (OCR: J306)
2 Controlled Assessments (60%) - 1 exam (40%)
In Years 10 and 11 girls continue casting and soldering, and to use the Denford Micro Router, the 3D printer and other manufacturing techniques as they design and make a range of artefacts. They then focus on the two Controlled Assessments that give them significant freedom to design and make prototype and bespoke products.