Drama
School Productions
The Drama Department provide a large number of opportunities for students to perform. We usually rehearse for these at lunchtimes or during lesson times. Occasionally, rehearsals are run by sixth form students but usually they are run by Mrs Frater and Mrs Barrett, Joint Heads of Drama.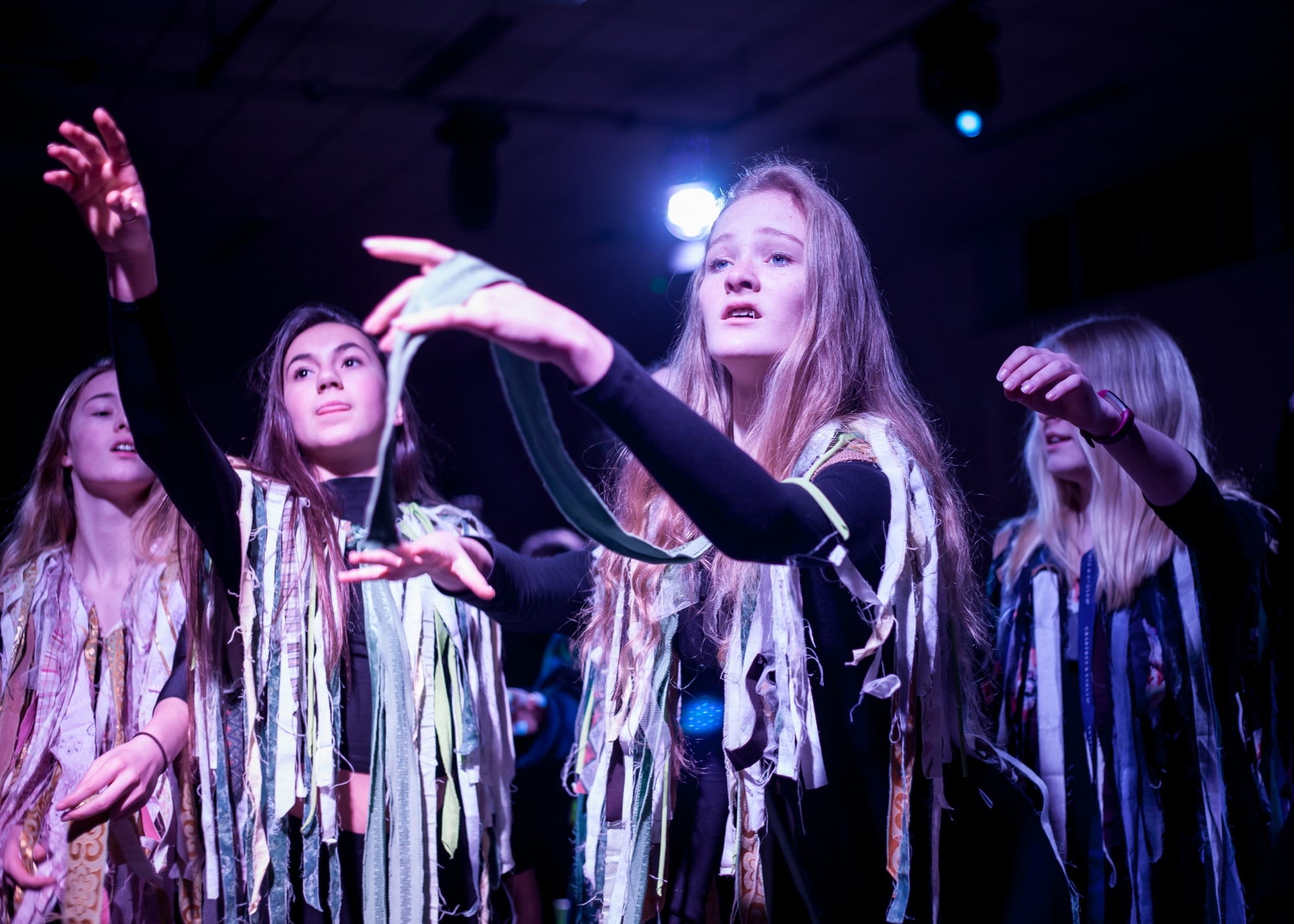 Please use the menu below to view photographs of some of our past performances:
The Lion King
Performed in-the-round involving over 140 pupils.
On stage at the RST for The Day of Celebration
Performing the Lion King.
Laura wade's 'Alice'
Performed on a traverse stage involving over 130 pupils.
Dylan Thomas's 'Under Milk Wood'
Performed in the round involving over 80 pupils.
Year 12 Theatre Studies Performing at Upton House

Exploring Resilience - SGGYes
The SGGYes project that took place in November 2017 set out to explore positive thinking, resilience and being good role models for each other. During lunchtimes, everyone was offered a range of activities from Yoga, mindful colouring, good old fashioned puzzles, a 'walk and talk', a stress busting workshop run by the sixth form Learning Committee (with free food!), to name a few. Year 12 and 13 worked intensively with Paula Penman (actor and facilitator) to explore the issues they were presented with from poetry created by Year 9. The play they devised together focused on one girl wanting to grow up and finding out that adult life is full of little problems too… so don't wish it away. It suggested to the audience that every stage of life has its ups and its downs - it's not a teenage thing, it's a life thing. Problems are normal, but as soon as you recognise there's a solution, you can work it out. The play was performed surrounded by art work created by Year 9 art students with provocative slogans and images requiring us to reflect and question what is important. The breakout discussions after the performance provided us with lots to consider in terms of how we respond to difficulties and where we might seek guidance. During the week we supported the charity 'Young Minds Matter' by selling bracelets and handing out information – over £200 was raised.
Theatre Trips
It is important for students studying GCSE Drama or A-level Theatre Studies to experience as much live theatre as possible. The theatre trips are intended to act as inspiration for practical work, to widen students' experience of theatre and to provide material to analyse in the summer exams. It is not essential that drama students attend every theatre trip, as there are many opportunities throughout the course. It is, however, essential that they take an active interest in visiting the theatre as regularly as possible. In the last five years we have visited Warwick Arts Centre, The Oxford Playhouse, The Birmingham Rep, The Bristol Old Vic, Malvern Festival Theatre, and various London theatres including the Fortune, the Lyric Hammersmith, the Novello and the National – as well as our local Royal Shakespeare Theatre, of course. Productions seen in the last five years have included the following:
List of Theatre Trips:
The Little Match Girl (and other happier tales) adapted by Emma Rice
The Flying Lovers of Vitebsk performed by Kneehigh Theatre Company
Things I Know to be True, performed by Frantic Assembly
Matilda adapted by Denis Kelly
DNA by Dennis Kelly
Dido, Queen of Carthage by Christopher Marlowe
946: The Amazing Story of Adolphus Tips Adapted by Michael Morpurgo and Emma Rice
Pygmalion, performed by Headlong Theatre Company
Coriolanus by William Shakespeare
A Christmas Carol adapted by David Edgar
The Angry Brigade by James Graham, performed by Paine's Plough
Othello by William Shakespeare, performed by Frantic Assembly
Rebecca from Daphne du Maurier's novel, performed by Kneehigh
A Streetcar Named Desire, by Tennessee Williams
Mermaid by Polly Teale, performed by Shared Experience
Charlie and the Chocolate Factory, adapted from Roald Dahl's novel
Matilda, adapted from Roald Dahl's novel
War Horse, adapted from Michael Morpurgo's novel
The Believers by Bryony Lavery, performed by Frantic Assembly
Blink by Phil Porter