Economics
Exam Board:
Requirements:
7 in Mathematics and Good English GCSE
Aims of the course
Girls completing this course will:
develop an interest in and enthusiasm for the subject
appreciate the contribution of economics to the understanding of the wider economic and social environment
develop an understanding of a range of concepts and an ability to use those concepts in a variety of different contexts
use an enquiring, critical and thoughtful approach to the study of economics and develop an ability to think as an economist
understand that economic behaviour can be studied from a range of perspectives
develop analytical and quantitative skills, together with qualities and attitudes which will equip them for the challenges, opportunities and responsibilities of adult and working life.
What will I learn?
The course encourages you to develop an understanding of economic concepts and theories through a critical consideration of current economic issues, problems and institutions of everyday life. As such, you will apply the economic theories and concepts learned in a range of contexts and appreciate their value and limitations in explaining real world phenomena.
You will also analyse, explain and evaluate the market economy and the role of government in it
The subject matter of the modules is of particular relevance in today's dynamic global economy. You will develop a critical approach to various economic models and methods of enquiry, applying them to a range of present day economic problems.
The ethical and social dimensions of Economics will be included – such as the strengths and weaknesses of the market economy, the relationship between rich and poor countries, the distribution of income and wealth within a particular society and the quality of life between and within economies.
Highlights
Whilst many economic theories have survived scrutiny for decades, or even centuries, the context that they operate within is always changing. Hence you will benefit from studying a 'real-time' subject.
You will develop a commercial awareness that will be vital when applying for jobs within a number of key industries, particularly those within the finance sector.
In Year 13, you will have the opportunity to take part in Target 2.0, a prestigious national competition run by the Bank of England.
There will also be visits to a number of city-based institutions in London as well as an annual economics conference with a number of highly regarded speakers from the world of economics, business and politics.
Future Opportunities
Economics is a highly regarded academic subject relevant if you wish to follow a wide range of careers such as finance, management, law and even medicine. It therefore works well with the sciences, arts, languages and humanities and each year students successfully combine Economics with subjects from all these areas.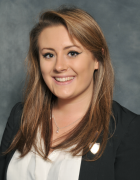 Student Focus: Ellie
"The relevance of Economics in everyday life is one of the main reasons I enjoy studying it so much. I have gained a fundamental understanding of people's actions and the how they affect the way societies and the wider world works."
Read More
Why did you choose Economics?
I have always been fascinated in the wider world around me, and that is exactly what drew me to study Economics. It is current, it is about how we behave, how businesses behave and how the Government behaves. I wanted to know more about the functionality of our world, specifically in terms of business, finance and global markets. Studying a subject which is so relevant and topical creates a great class dynamic where lessons are more interactive and you can apply what you have learnt to real life situations. Studying for a Geography A-level alongisde this has been incredibly beneficial for both subjects, as you regularly find overlaps in the topics, such as Development, Globalisation, and Sustainability, where you are looking at the same topic from two different perspectives, thus strengthening and deepening your understanding as you have a more rounded and comprehensive view.
How will the subject assist your future plans?
I plan to continue on to university to study Social Sciences. The knowledge and skills I have gained from studying Economics at A-level have provided me with a brilliant platform for my further education. I feel thoroughly prepared to study for a degree based on societal behaviours and their consequent impacts and solutions.