French
Exam Board:
Requirements:
7 in French
(GCSE Level)
Aims of the course
To develop an understanding of French in a variety of contexts.
To develop a knowledge of the vocabulary and structures of the language.
To develop transferable language learning skills.
To develop the ability to communicate effectively in the language.
To develop awareness and understanding of countries and communities where the language is spoken.
To offer enjoyment, a sense of achievement and intellectual stimulation.
What will I learn?
Among the many benefits, A-Level in a Modern Foreign Language is designed to encourage you to:
Develop the knowledge and skills acquired at GCSE level and therefore use French/German/Spanish in a wide range of contexts
Gain a useful insight into another culture and reflect on various aspects of contemporary society
Enhance their employment prospects, facilitate foreign travel and experience the enjoyment and motivation of improving their linguistic level.
Highlights
Students benefit from approximately ten hours of teaching every two weeks in addition to a conversation lesson with a language assistant from the beginning of October until May.
The Modern Foreign Language Department has a language Laboratory equipped with the latest technology and resources to support the independent learning of our students.
Our A-level students can also take advantage of a range of reading and listening resources to maximise their learning.
You will also study a film and a text in the language you are studying.
Future Opportunities
An A-level in a Modern Foreign Language is an asset which is very highly prized by higher education institutions and by employers. According to the CiLT – the National Centre for Languages -
​
60% of UK trade is with non-English speaking countries
Customers addressed in their mother tongue are three times more likely to buy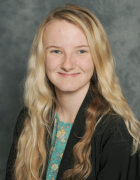 Student Focus: Holly
"Having a language is a really useful tool and serves as a great platform for opportunities that might otherwise have been unavailable."
Read More
Why did you choose French?
I have enjoyed French from when I first started learning it at primary school, and I took a particular interest at GCSE. It made sense to go on to take it at A-level and I'm really glad I made that decision. We learn a more complex and sophisticated vocabulary which is very useful for everyday discussion, as well as conversational French.
Does it have any impact on your other chosen subjects?
Absolutely. I take Chemistry and Maths, and whilst French might seem irrelevant to these subjects, it has been a fantastic asset as it has helped me become a more confident and eloquent speaker. Similarly, working on the grammatical structures has helped with my analytical techniques which will be extremely valuable when I go on to study Chemistry and university.