Psychology
Exam Board:
Requirements:
7 in English, Maths and Science
(GCSE Level)
Aims of the course
The course encourages you to
develop your interest in and enthusiasm for Psychology, including developing an interest in further study and careers associated with the subject
understand how society makes decisions about scientific issues and how the sciences contribute to the success of the economy and society
promote an appreciation and understanding of individuals, society and cultural diversity
develop and demonstrate a deep appreciation of the skills, knowledge and understanding of scientific methods
develop practical, mathematical and problem solving skills
What will I learn?
A-level Psychology should encourage you to:
develop understanding of the key areas within Psychology – Cognitive, Developmental, Social, Physiological and Individual Differences
apply psychological theories and concepts to society and everyday situations
apply psychological concepts to the area of Mental Health, Education and Criminology and as such promote an appreciation and understanding of individuals, society and cultural diversity
develop evaluative and analytical skills
carry out research using different methods such as observation or self report
extend practical, mathematical, scientific and problem solving skills.
Highlights
As part of the A-level course we visit Warwick Law Courts to see the judicial system in action.
There is also the opportunity for some students to visit HMP Onley.
Future Opportunities
With an understanding of people and how they behave, Psychology students can pursue a number of careers ranging from human resources, advertising, marketing, physiotherapy to careers within psychology such as Educational or Clinical Psychology. So there are many opportunities within Psychology, Business, Medicine etc.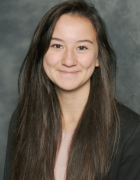 Student Focus: Jasmine
"The skills I am learning and putting into practice have enabled me to have the confidence to step out of my comfort zone and the results have been amazing!"
Read More
Why did you choose Psychology?
It was very different from my other subjects (Maths, Further Maths and Physics) and I thought it would be a very interesting subject and would provide me with beneficial skills such as structured essay writing and learning more about how the human mind works.
I have really enjoyed learning a completely new subject, as it posed many questions that are relevant in today's society, such as why people commit crime and whether the cause is their situation or their disposition. Each case study we learn about on the course is interesting and shocks many of us with the conclusions and outcomes we discover.
What have you particularly enjoyed?
We get many opportunities to go on day trips, such as going to a Court to witness trials and apply what we have learned on our course to real life.
How will Psychology help you in the future?
I am planning to study Economics at university and I believe Psychology will be a great asset in understanding consumer behaviour and how organisations work.