Gold Award for our Engineers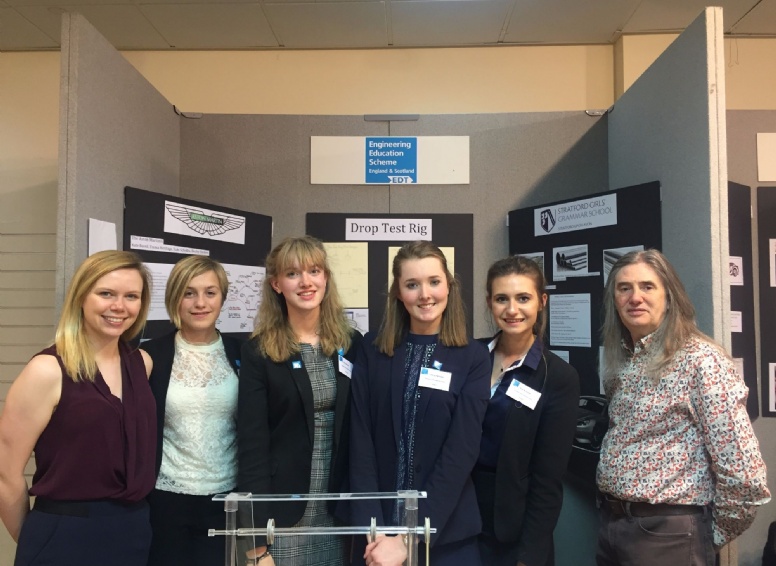 EDT (Engineering Development Trust) delivers over 30,000 STEM (science, technology, engineering and mathematics) experiences each year, for young people age 11-21 across the UK.
Their range of work-related learning schemes provide opportunities for young people to enhance their technical, personal and employability skills through industry-led projects, industrial placements and specialised taster courses.
They help develop partnerships, building links between educators and industry employers, helping organisations reach talent and connect with young engineers and scientists across the UK.
Here, Year 12's Suki shares an update on her team's experience so far. They have been lucky enough to work with Aston Martin and are enjoying every minute!
We have been busy designing a drop test rig for Aston Martin, which helps with the testing of components such as bonnets and car doors before full car crash tests which can be extortionately expensive if they must be done for each car component!
At the presentation day last Thursday 28 April, we gave a formal presentation to a panel and received high praise for our model and presentation skills. Each of us received a level 3 Industrial Cadet Gold Award and completed our Engineering Education Scheme qualification.
We all throughly enjoyed the day and loved meeting fellow budding engineers and were thrilled that so many engineers took such great interest in our project. We have received some fantastic feedback from everyone we spoke to and have hopefully further increased awareness for women engineers.
Overall I can say on behalf of my whole team that we loved our experience and cannot wait to work together again! I know I am hugely proud of our achievements and I hope that Aston Martin and Mr Palmer are too! It's been an amazing opportunity and we are all really grateful to have been part of the programme.