2016 Maths Feast - Shottery Girls Take Home First Place!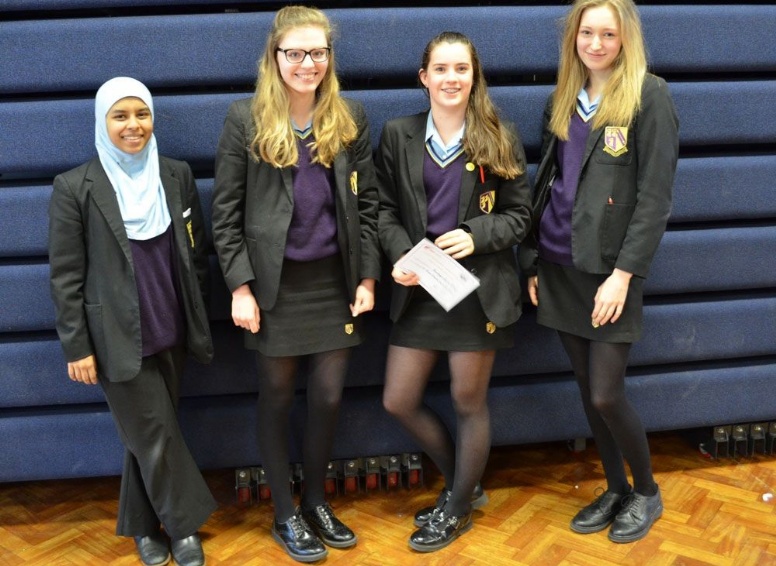 Myton School played host to the Year 10 Maths Feast event on 26 February. The event is run by the Further Mathematics Support Programme and is a challenging team competition testing mathematical, team-working and communication skills. Here, Year 10's Ellen gives us an overview of the day...
On Friday 26th February, Inaam, Darcey, Lydia and myself took part in the Year 10 Maths Feast at Myton School, Warwick. The Feast was a national competition where we had to compete against 20 other teams from across the region. The competition commenced at 9:30, beginning with the Starter Round
The competition consisted of five rounds, which combined mathematical, communication, and teamwork skills. The rounds were named after different food dishes, hence the maths 'Feast', and contained a vast amount of mathematical content, including shapes, imaginary numbers, symmetry - it even included a few rounds of the well-known Countdown!
I think that the competition was a great way to practice Maths in an out of school environment, and expand and develop our knowledge. It was also interesting to put our knowledge to the test against other schools, and taking a joint first position proved that we were equally matched against Warwick Boys. The competition concluded with tea and (too many!) biscuits, and photos were taken of us as the winning team. Overall, it was a fantastic experience, and the whole team was thrilled to take home First Place, along with some extremely fancy Maths mugs!
Many thanks to Miss Drinkwater for organising the trip and providing us with this opportunity.