A Time Capsule for Future Shottery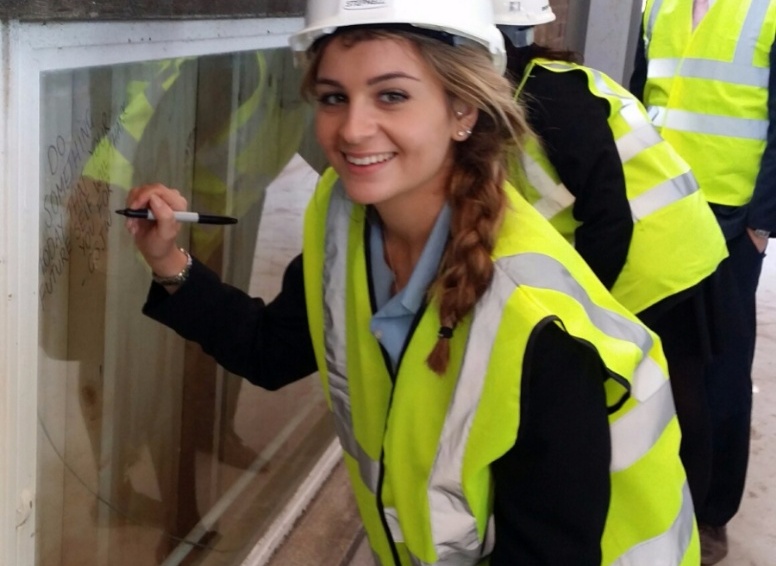 Earlier this term, we created an unusual time capsule with help from our construction firm, Stepnell.
Tutor groups worked together to come up with something suitable to write on the windows of the old hall at the heart of the new building, which are soon to be covered over as part of the refurbishment project. Representatives from each tutor group were chosen, and the girls donned hi-vis jackets and hard hats and enjoyed a sneak preview of the new facilities.
More than 30 girls left inspiring and light-hearted messages to the students and the school of the future including "Do something today that your future self will thank you for", "Put your heart, mind and soul into even your smallest acts" and "We hope you are still a school, still all girls, still enjoying cake break and still having fun!"
"For a school with such an impressive history, we wanted to take advantage of the opportunity for the current students to become another cog in the wheel of time," explains Camilla Harrison, Marketing and Development Manager for the school. "Who knows whether the glass will ever be uncovered again, but it's a rather charming idea to think that it might be, by the future beneficiaries of the school. We are enormously grateful to the on-site Stepnell team for accommodating such a lot of people armed with permanent markers!"
"We thought this was a great idea and were very happy to help out," says Stepnell contracts manager Paul Charnock. "Throughout the construction project, the students have taken a lot of interest in the construction work and we've organised a number of site visits for them. Most of the building work has been carried out while the school has been open and we're very grateful for the huge support and cooperation we've had from both students and staff." The building project includes a new one- and two-storey development which is constructed around the existing assembly hall leading to some of the external windows being built over. The new development will house a new kitchen and dining facilities and a new sports hall, with Stepnell also carrying out an extensive refurbishment of the existing assembly hall.
The overall construction project is on schedule for completion in August 2015 with Stepnell now focusing on internal finishing work and the refurbishment of the hall.