Mock Election at Shottery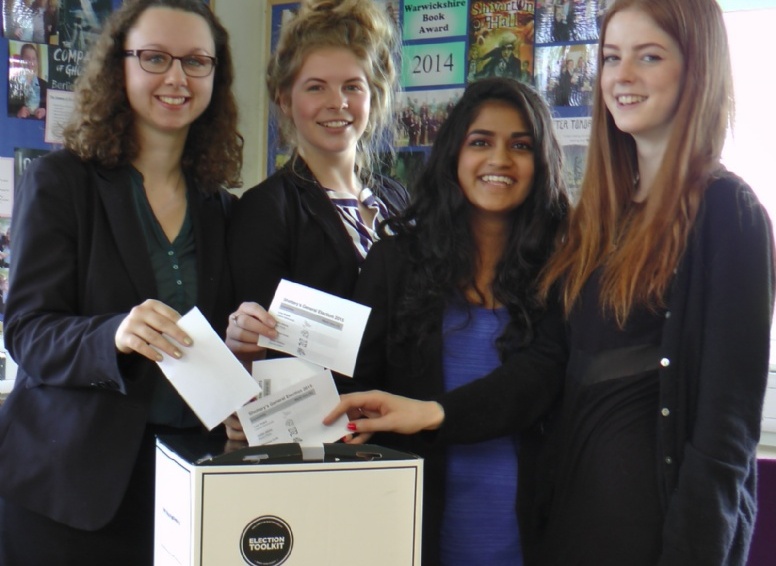 Raising awareness about the approaching General Election, Shottery held a mock election with students representing each of the four main parties...
Earlier this term we held a mock election to raise awareness about the approaching General Election. Candidates stood to support four of the main parties. Lucy Angus represented the Liberal Democrat Party, Caitlin Atkins stood as the Green Party candidate, Hermione Cook was the Labour Party candidate and Daiya Dhillon stood for the Conservative Party.
The candidates each gave two minute speeches at all the house assemblies and then two hustings events were held: one for the lower school and a second for the older students. Questions from the audiences covered key issues such as how the parties plan to tackle the current economic situation, their approaches to the Human Rights Act, their views on women only quotas in Parliament, immigration, and tax proposals.
Mr Giles, in charge of the event, was impressed with the quality of the answers given. "All four candidates worked really hard on their speeches, putting across their parties' main points and pointing out the errors of their opponents! They spoke with clarity, confidence and conviction and would give any 'professional' politician a run for their money. At the hustings they all showed excellent depth of knowledge of their policies and debated with passion and humour."
Voting took place on Thursday 23rd April with a good turnout across the whole school - staff as well as students. The votes were counted that afternoon (thanks to the returning officers Heather Johnson and Natalie Applegarth) with Daiya Dhillon winning for the Conservatives with 44.9% of the vote. The Liberal Democrats came second with 21.3% of the votes, Labour third on 19.2% and the Green Party fourth with 14.6%.