Cake Success!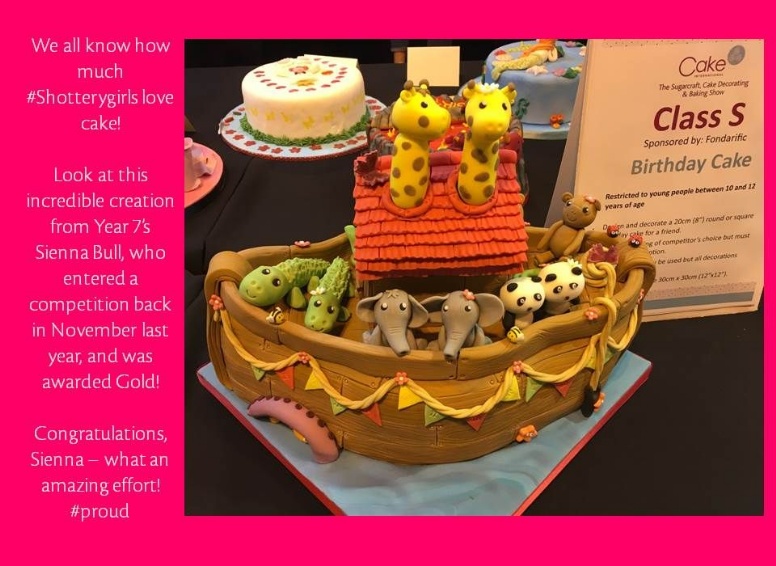 Year 7's Sienna Bull did an amazing job at Cake International this year, so we asked her to write an article for the school website to tell us more about it...
I love to decorate cakes. It's quite an unusual hobby, but many people around the world enjoy it and may enter some of the competitions held each year. One of these is Cake International, which normally has 3 shows a year, held in March, April and November. There are lots of prizes up for grabs, and there are usually more than a few famous faces around. I mean, not like Katy Perry or Jessie J, but more like Mary Berry or Paul Hollywood. I was lucky enough to have a chat with Mary Berry and she tried to convince me to go on Junior Bake Off! I aspire to be like them one day.
I have been baking ever since I was very little - if you can count decorating cupcakes with sprinkles or licking the spoon when my mum had finished making a cake! I love decorating cakes because of the freedom that comes with it. I mean, you can create anything you like, and of course it's tasty too! I started to bake properly when I was about 5 as my mum set up a cake business and I was her No.1 assistant! I would 'help' her in the kitchen and create little cupcakes to share with my family whenever I could. For my birthday one year, I got a cooking set with mixing bowls, spatulas and other things that I still use today.
Cake International is the biggest cake competition in the world. In November 2016, it had over 1300 entries! That's not to mention the amazing displays put on every year by various artists, from a life-sized ballerina made of only cake to a room made entirely out of buttercream! They always manage to take my breath away. Sorry if I'm making you hungry!
I've entered the children's class for five years in a row now, and every year I'm blown away by what the older children have created in cake, and I'm really pleased with how well I have done as well. In both 2014 and 2015 I won my class and have the rosette to prove it!
For 2016 I made a decorated version of Noah's Ark which took me 29 hours to complete. I used Rice Krispie treats to build up the sides of the boat and marbled icing to create the planks of wood. I then made pandas, monkeys, snakes, giraffes and many more animals to put on the ship.
Unfortunately, the judges were stricter than expected and chose to disqualify me as apparently, it wasn't a round cake anymore as I had used Rice Krispie treats on the side to make it an ark shape. I am still really proud of my entry, though.
It isn't just me in my family who makes cake. My mum runs a cake business and in 2016 my little sister entered the under 10's class and won!
Next year we will be in the same class so it may be a little tense in the kitchen for at least a week! My mum also entered last year and got what she had aimed for.
Sienna Bull, Year 7