School Record for GCSE Results!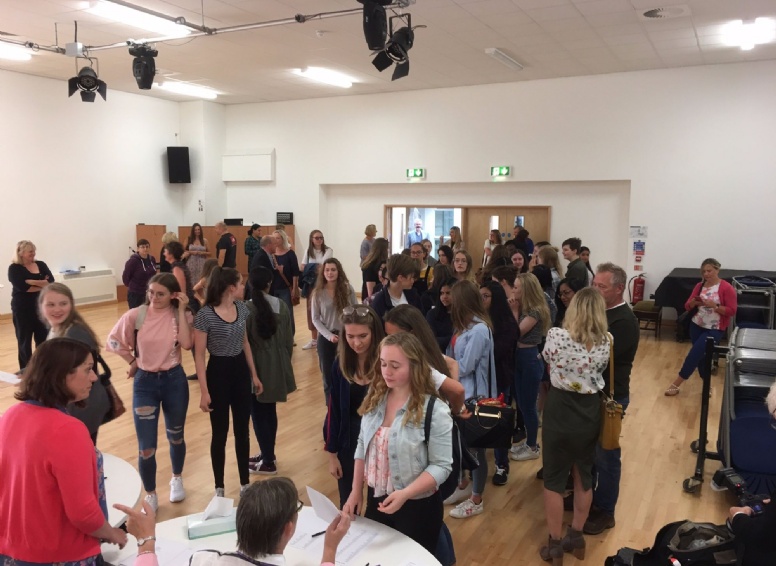 We are celebrating the excellent performance of our Year 11 students as they achieved 84% A*/A and 9/7 across all their GCSEs. The students achieved 83% 9-7 grades in the new English and Maths GCSEs, which includes 22% at 9 grade, and a new school record of 85% A*/A grades in the remaining unreformed GCSEs, with 50% at A* grade. With government indicating that attaining the new 9 grade would be a challenge - nationally expectations are that Grade 9 is to be achieved by 2% of entrants in English and 3% of entrants in Maths - we are delighted to see that over one in five of its students have achieved the new 9 grade. Congratulations also go to the 31% who attained grade 8! These fantastic results continue the trend of excellent achievement and reflect the hard work and effort put in by each and every one of the Year 11 students.
Headteacher, Mrs Cornell, is thrilled for the students and everyone involved in this success. "These results are stunning! This is the first year group to have experienced the new, more demanding English and Maths GCSEs. As part of our rolling expansion in pupil numbers over recent years, this year's results belong to the largest cohort that have been entered for GCSEs this far, so we are delighted to see the new school record. It has been an unsettling experience but these results show the calibre of our students and how they have risen to the challenge laid down by the Government.
Our Year 11 have maintained the Stratford Girls' tradition of excellent results in GCSEs. The students' success says a lot about their tenacity and resilience, as well as their determination to succeed: characteristics that we see as they come up through the school and that will serve them well as they move into the sixth form. It proves that for bright girls in Stratford and the wider Warwickshire area, Stratford Girls' Grammar School remains a prime destination of choice. Well done to all our students and good luck as they begin their A-levels in Shottery Sixth Form!"
Of particular note, three of our Year 11 students achieved the highest attainable grades: Tolulope Atilola, Leah Bhandal and Inaam Shammoon attained three 9 grades and eight A*s across their eleven timetabled GCSEs. This is a phenomenal achievement and all three are heartily congratulated by the school.
2017 Headlines Statistics:
We are Top School for GCSEs in Warwickshire according to the Times
41st nationally (indepedent and state schools)
15th state school
9th state all girls school
Across all GCSEs
A*/A and 9/7 84%
5 or more A*/C and 9/4 100%
Unreformed GCSEs
A* 50%
A*/A 85%
A*/C 100%
Reformed GCSEs in English Language, English Literature and Maths
9 22%
8 31%
9/7 83%
9/4 100%