World Jump Rope Championships, Florida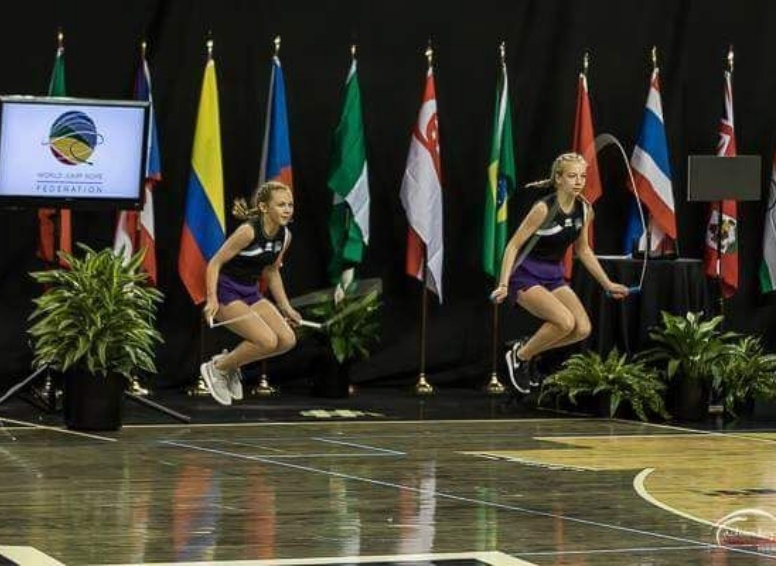 Year 9 student Evie Lowe has been having tremendous success with her speciality sport, skipping. We asked her to tell us more about her most recent experience at the World Championships in Florida...
In November 2016, I competed in the British Masters Skipping Championships in Glasgow and was crowned the overall winner after competing in 3 different disciplines – 30 secs speed, 3 mins speed and a freestyle routine.
I was then picked to be part of the Jump Rope UK team based in Studley, flying the flag at the World Jump Rope Championships in Orlando Florida. We practised our speed and freestyle routines three times a week for the last six months.
11 of us plus our coaches flew to the US on 1 July for the competition itself, as well as a day off at Universal (hooray!) and two days of masterclasses, learning new tricks from the best jumpers in the world - a fantastic opportunity!
There were 800 competitors from 25 countries, both boys and girls, ranging from 10 years and under, to 30+! Half of them were from teams in America as jump rope is most popular over there, and of course it was being held in their home country. At the opening ceremony we marched in with the Union Jack between the teams from Trinidad & Tobago and the USA.
I competed in 10 events over 4 days, including individual speed and freestyle, pairs and team freestyle with my club mates, Double Dutch speed and freestyle (with lots of handstand and push-ups in the ropes) plus a team "fusion" routine which is a mix of Double Dutch and dancing plus some great gymnastics.. There was a live stream from the competition, so our parents could watch us competing from back home, which was great. In my individual speed events I achieved 160 skips in the 30 seconds event and 798 in the 3 minute event. In the pairs freestyle I skipped with my friend Flo and we did a perfect routine to place 5th overall.
Competition was extremely tough and margins were very tight - our team were so close to several medals. We had lots of fun in our final event being the fusion where we danced to "Singing in the Rain" and skipped using brollies as well as ropes in our routine. We all had fun putting the routine together in training and we performed it perfectly.
My final placings were 4, 5 (x3), 6, 7(x2), 11, 16 and, 17 in the World, an achievement of which I am very proud,
Day 5 was Grand Finals Day where the top senior skippers competed for crystal trophies – they were all absolutely amazing and lots of world records were broken in the speed events. After the trophy ceremonies there was a fun pool party where we chatted, danced and splashed with skippers from all over the world and had selfies with our skipping heroes. We swapped presents and I have some great memorabilia from Hong Kong and Canada.
After Grands, we all had a day off from skipping and our team went to Universal Studios where we had lots of fun on the rides and I loved walking through Harry Potter World.
The last 2 days of our stay was at the WJR camp, where we learned lots of new tricks from the world's best skippers. After that it was a matter of getting our suitcases packed to catch our 9 hour flight back to Manchester. A great time was had by all and we were extremely proud to represent the UK.
My next event is the British Masters and Team Championships, which is to be held on Saturday 18th November at Stratford-Upon-Avon Leisure Centre. I am the reigning British Masters Champion for my age group. The scores are amalgamated for the 30 second speed category, the 3minute Speed and a freestyle routine, to find the overall winner.
Spectators are welcome – the more the merrier, and it would be lovely to see people there!
Evie Lowe, Year 9