Rowing Success in America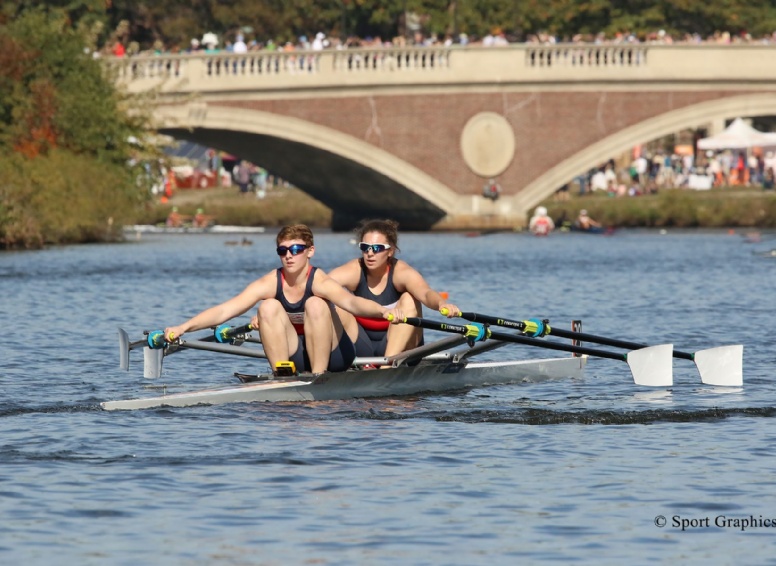 Over half term, Year 13 student Georgie Cherry travelled to the USA to compete in the Head Of The Charles Regatta. Here, she tells us about her amazing trip!
Over the October half term, I travelled to Boston, Massachusetts to compete in the Head of the Charles Regatta. This is one of the most prestigious races in America, starting at Boston Universiy Boat Club and finishing 3 miles upstream. There were 14,000 competitors and tens of thousands of spectators over the two days of racing.
Me and my double partner from City of Oxford Rowing Club have been training since April, after our application to enter was accepted. We came 22nd out of a total 46 crews, beating all other English crews in the womens youths 2x event, with a time of 20 minutes and 4 seconds. We were three minutes behind the winner (also the national champions of America) and two minutes behind 2nd place.
It was a brilliant and unique experience, as we had to race with a borrowed boat and blades, and only got to train in it once before the race. The river was also much wider than any of the rivers we have rowed on in England - I could only just make out the fours on the other side of the river! The course is well known as difficult to navigate, and my double partner did an absolutely sterling job of keeping us on the fastest route, especially around the u-turn near the end, where if you take the wrong course, you could be forced to stop and spin the boat into the right direction before carrying on, losing valuable time.
Each of the five bridges on the course was packed with spectators and the atmosphere surrounding the whole event was so exciting. It was a lot of fun and a great achievement for us to have been part of such a prestigious event.
Below is a photo of us racing, and one of the river (as I still can't believe how wide it was!)
Georgie Cherry, Year 13