Young Minds Matter Event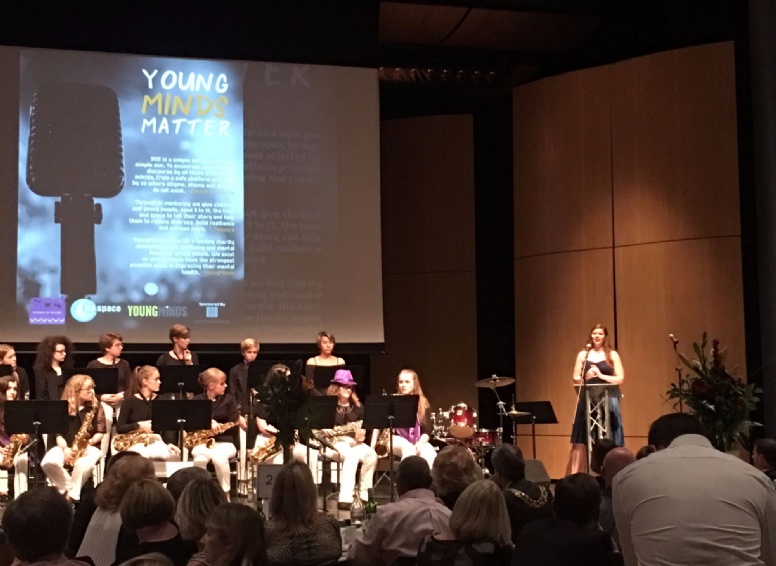 On 14th October 2017, many students across all years at SGGS participated in a fantastic concert hosted by local mother Sue Roberts. The music department's Main School Choir and Jazz Band were asked to participate in the concert and also were at the forefront of the finale of the evening, with Head of Music Louise Burdett organising the impressive finale that also involved students from Aylesford School, Tudor Hall and Warwick School. Jazz Band performed Tuxedo Junction, Feeling Good and Smooth; Main School Choir performed two empowering and uplifting songs called Stand and Heart & Music. The finale was a rousing version of Shine by Take That.
The rehearsal process began months in advance, providing ample time for the girls to perfect their skills. Each session held either at a lunchtime or after school and led by the head of music, was fun and focused leaving all the girls feeling confident and motivated. Alumnae were also invited back to perform in the event. Robyn Saunders, who is currently doing a performance degree at Leeds Conservatoire, and Caroline Weiner who has completed a music degree and graduated from Birmingham University with first class honours. They performed both solo and with the current pupils in the event. Robyn said, "I had a brilliant time returning to play with the talented and very professional girls at Shottery. It was so rewarding being involved in a concert for such a worthy cause."
Hanna Vine, a Year 10 student who was involved in the evening said: "Performing as a part of Main School Choir for the young minds matter concert was incredible. Everything from the lunchtime rehearsals to the big day, the effort from everyone was massive. It was amazing to feel the difference in sound from the first rehearsal to the last!"
The event was hosted at Warwick Concert Hall and began with a champagne reception followed by three-course dinner and then music, speakers and a charity auction providing entertainment for the guests. Along with girls from SGGS, students from Tudor Hall, Aylesford School and the Stratford Rock School performed a range of pieces from emotive instrumental to upbeat choral songs. Supporters of the event included local MP Nadhim Zahawi, the charity SOS (Silence of Suicide) and TV chef Sally Bee presented the evening.
It was a fantastic event - not only for a very important cause close to many of the girls hearts - but with an uplifting message about support and we were grateful and proud to have been involved.
Emily Hoyle, Year 10
Since Emily wrote this article, we have learned that the event has raised over £36,000 so far, which is fantastic news! Well done to everyone involved! You can find out more on their GoFundMe page: https://www.gofundme.com/young-minds-matter