Interested in Teaching?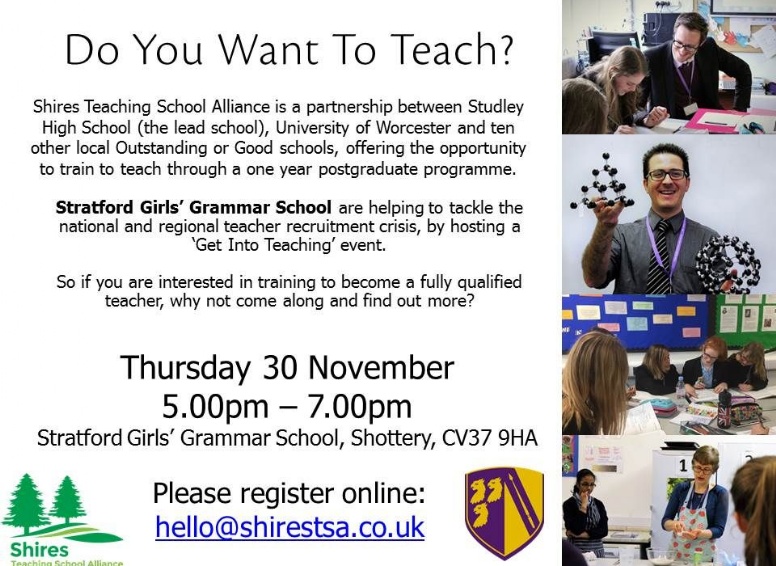 Press Release
For immediate release
Thursday 16 November 2017
Girls' Grammar School Host Event to
Tackle Regional and National Teaching Crisis.
Stratford Girls' Grammar School is to host an evening to help tackle the nationwide teacher recruitment crisis. As more and more educational facilities report on the impact of the lack of teachers, SGGS is working with a local alliance of schools as part of the Shires TSA, whose aim is to minimize the impact of the dwindling numbers of teacher recruitment.
Charlotte Smith, Deputy Head of SGGS said, 'The benefit of the School Direct model is that schools can shape trainees using expertise from within the alliance of schools, using best practice. The support and training from classroom experts across partner schools is hugely advantageous, and we are delighted to be involved with such an innovative programme.'
'Yes, teaching is tough,' says Amy Page, Programme Leader for teacher training across Shires TSA, 'but it is also one of the most rewarding vocations. I have worked in the local area for ten years and have seen the impact of quality training on local schools. With the School Direct model, plenty of support is available at every stage of the training year. We focus on building strategies to manage workload and maintain sustainability.'
SGGS is inviting local people interested in a career in teaching, to come along to the school library on Thursday 30 November from 5pm until 7pm. Teaching experts will be talking about their experiences: the challenges and rewards of teaching, and how to apply.
Please register your interest via hello@shirestsa.co.uk
-- Ends –