The Diary Of Anne Frank - SGGS Student In Starring role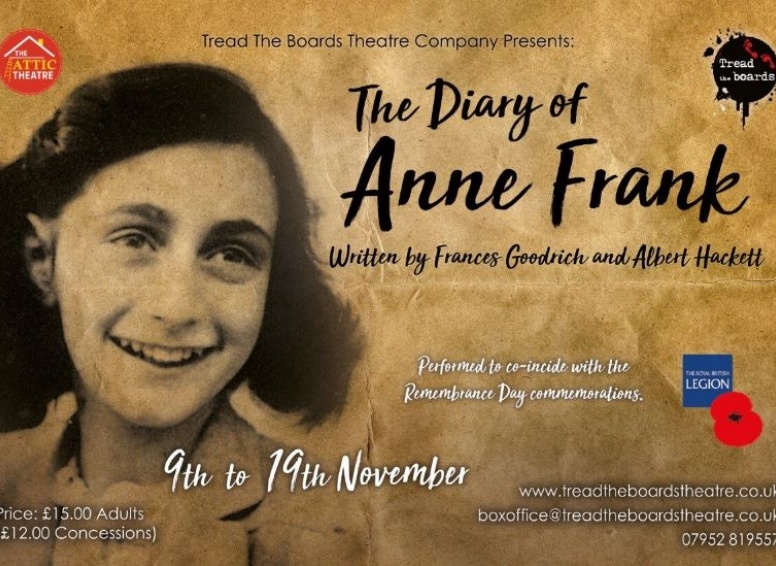 In November last year, our Sixth Form student Molly Ives played the lead role in the professional production of The Diary Of Anne Frank, at The Attic Theatre in Stratford. Here, she tells us about it...
From the 9th - 19th November I played Anne Frank in a professional production of The Diary of Anne Frank at the Attic Theatre in Stratford. It was an incredible experience; I met so many amazing people, learnt a lot about the professional acting world, and had brilliant fun doing it! My friend from another theatre let me know about the audition; they needed someone who could pick up the part quickly, as they had limited time. I had played the same part at my local theatre the previous year, so I thought it sounded perfect. I went along to the audition, which took place in early October, and was lucky enough to be given the part!
Rehearsals started pretty soon after the casting. To begin with we rehearsed only at the weekends, but soon we were rehearsing nearly every day, to make sure we were ready in time for the performances.
When the opening night came around we were all very nervous - me especially - as it was my first professional acting job. We had 12 performances in total, including matinees each Saturday; it was tiring doing 2 performances in one day! They went brilliantly - the audiences grew and grew each night, which made the atmosphere even better. We had some fantastic reviews, and were all really proud of how we did.
I had so much fun taking part in the show; it taught me a lot about how professional theatre operates, as well as what it's like to work with professional actors. The experience was incredible, and it definitely heightened my interest in careers the theatre.
Molly Ives, Year 13