Junior Inter Regional Regatta Success!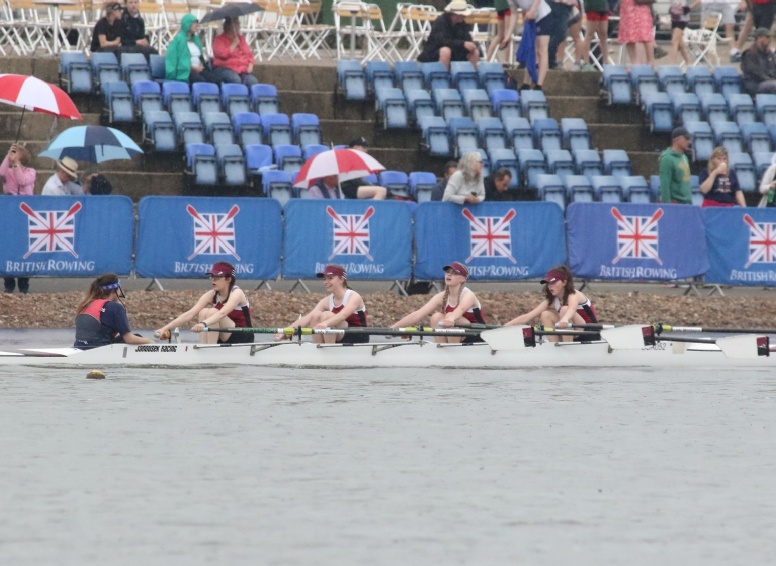 On Friday 20 April, SGGS students Abbey Meggeson, Sienna Rawlings, Martha Usselmann, Julia Zampronio-Gurden and Amelie Sartain took part in the Junior Inter Regional Regatta, representing the West Midlands on the National Watersports Centre Lake in Nottingham.
The Regatta is contested between twelve regional teams and each crew has to compete in a 1500m time trial heat, followed by a 1500m finals race; both races are six boat, side by side, laned racing.
Last month, Abbey, Sienna, Martha & Julia qualified by being the fastest West Midlands crew at the selection that took place at the Junior Sculling Head on Eton Dorney Lake, with Amelie qualifying in her single scull by winning the regional selection races held at Worcester - a fantastic achievement!
The results were brilliant; indicative of the effort and dedication from the rowers. Amelie won the WJ14 1x 'B' Final, ahead of second place by an amazing 10 seconds. Abbey, Sienna, Martha and Julia finished a strong fifth in their WJ14 4x+ 'B' Final. It should be noted that they were racing against the country's top clubs, including Henley Rowing Club and Tideway Scullers.
The West Midlands were placed third in the Victores Ludorum. Well done to everyone involved!