German Exchange Trip to Munich - May 2018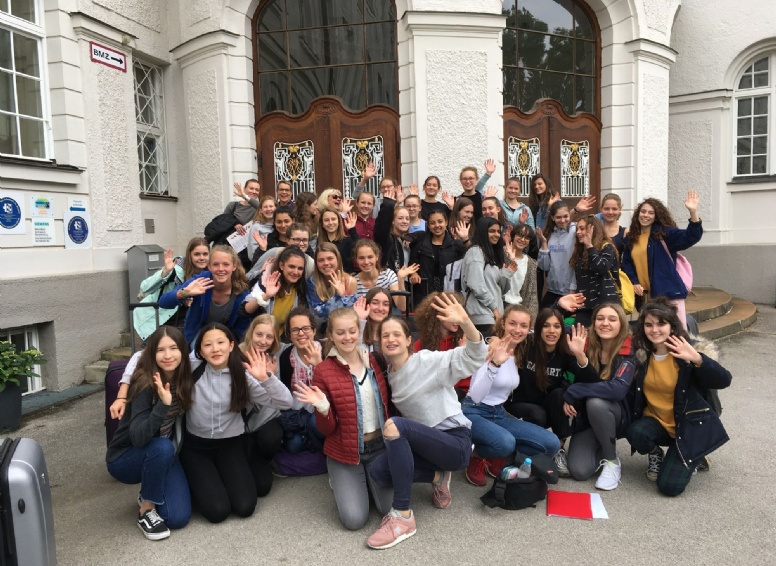 Year 10 student Kirsty wrote us an article about the recent German trip to Munich...
In May 2018, we completed the second half of our German exchange with our partners in Munich. I was looking forward to going back because I'd made really good friends with lots of the German girls there, as well as my partner, Amelie.
When we first arrived at the airport, we were greeted by the girls wearing dirndls, typical Bavarian dress worn for special occasions. We observed many lessons throughout the week and got to experience many cultural differences. For example, the students remained in the same classroom all day and the teachers rotated round. We also experienced traditional foods such as Schnitzel and Spargel (Asparagus). We looked around the old Munich town, visited the castle that inspired Disney- Neuschwanstein, Regensburg and its cathedral and I was fortunate enough to go on a day trip to Salzburg, Austria at the weekend. We also had a tour around Schloss Nymphenburg- the summer palace attached to the Maria Ward Gymnasium (their school).
Each of the day trips were a good way to not only have a greater understanding of the language, but also the country itself. As the week progressed, I found that not only had my confidence in speaking German had increased but my listening skills had also improved massively.
I wanted to participate in the exchange because I knew that it would improve my language and my understanding as a whole, which it did greatly. I am very grateful for the opportunity and would recommend anyone who is taking a language to participate in an exchange. I am also really grateful to Mrs Stringer and Ms Crofton for facilitating the trip.
Kirsty Dundan, Year 10
"Thank you to everyone, who took part in the Munich exchange and helped to make it such a fabulous success. I am extremely proud of how all of our students represented our school in such a positive way and made every effort to fit in and communicate in German. You are all "fantastisch" - Mrs Stringer, Head of German
"The third year of our link with the prestigious Maria-Ward-Gymnasium in Munich has been a great success, with 20 of our German GCSE students spending a week staying with a German family, experiencing some lessons in a German school, developing their language skills and discovering the delights of beautiful Bavaria, including fairy-tale castles, historic cities and culinary curiosities such as white sausages and traditional pretzels. After lots of walking and lots of talking the girls came back ready for a rest, but enthused in their learning by this brave dive into daily life in another culture. Well done to all involved." - Ms Crofton, German