Warwickshire Book Awards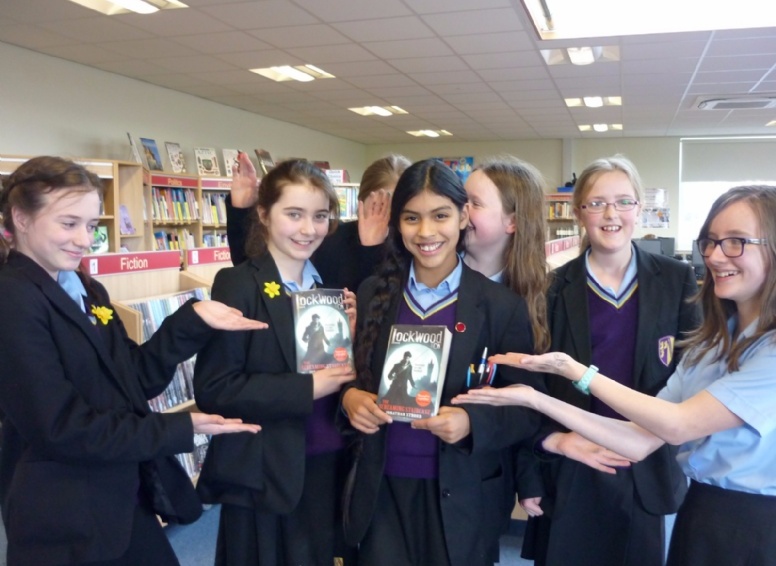 The Warwickshire Book Awards team met for the last time at the beginning of March, to vote for our own Shottery winner. After reading six different and amazing new books, and meeting regularly to discuss and exchange our views, the girls were keen to find our winner.
It proved to be a close contest with The Screaming Staircase, a page-turning original, funny, ghostly thriller just beating our second favourite. Our top three books were:
1st The Screaming Staircase, by Jonathan Stroud.
"Really scary, yet so fascinating and unexpected. Do not read before bedtime!"
"Thrilling, chilling and terrific tension"
2nd Phoenix, by SF Said
"Unpredictable, hooking and exciting. Great characters and an amazing plot"
"A brilliant, emotionally charged story that is set in a parallel universe"
3rd Gabriel's Clock, by Hilton Pashley
"Dark, gripping and yet laugh-out-loud funny. A perfect balance."
On 17 March a group of us set off for the Warwickshire Book Award Celebration: an event at Bilton School, Rugby. Dozens of Warwickshire schools attended, all having sent in their votes and all awaiting the announcement of the overall winner.
We were entertained with short student-led presentations, and then we were thrilled to hear that the Warwickshire Book Award winner for 2015 was one of our top two books: Phoenix.
We were treated to thought provoking talks by three of the shortlisted authors. SF Said, who wrote Phoenix, Hilton Pashley, author of Gabriel's Clock and Berlie Doherty who wrote A Company of Ghosts. They all enthusiastically answered the varied questions put to them by students. They later chatted to the girls and signed copies of their books.
We were thrilled that four of our girls won prizes in the county competitions. Huge congratulations to: Joanna Leadley, for her illustration, Kate Inman and Rosie Cale, for their reviews,
and Charlotte Braso, who won a special prize for her writing: a box filled with the winning books for the ten years this fantastic scheme has been running!
Thank you all forty-eight Year 7 students who took part!
Miss Tanner, Librarian