SGGS Intermediate Team Wins District Rotary Youth Speaks Competition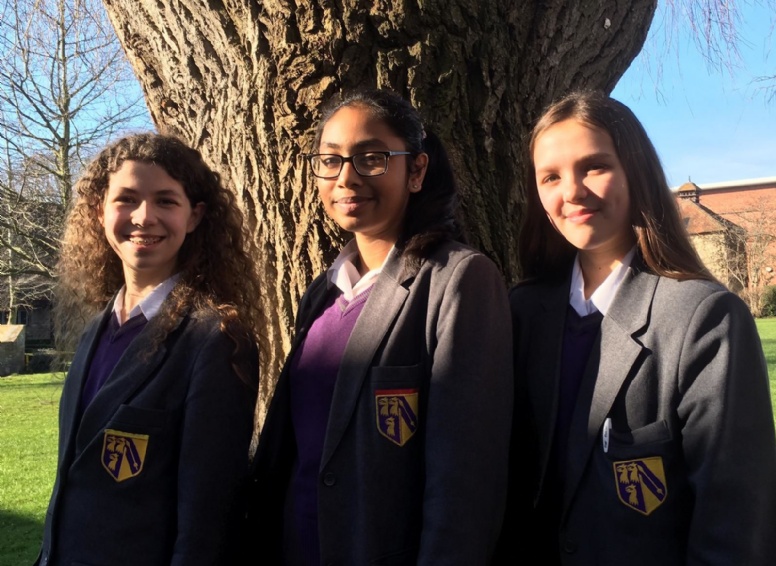 Congratulations to Phoebe Fitzpatrick (Year 8), Aparajita Gupta (Year 8), and Scarlett Rawbone (Year 9) who triumphed in the Intermediate age category of the annual district Rotary Youth Speaks Competition held at The Croft School on February 13th.
Four Stratford Girls' Grammar School teams took part in the evening event: two Intermediate ( age 11-13 years) and two Senior (age 14-17 years) speaking on prepared topics as varied as Designer Brand:Designer Babies? to Art Versus The Artist. Each team had to prepare a two minute opening speech from the Chair, a six minute Speaker who delivered the main concepts followed by a two minute Vote of Thanks. Teams competed against other schools from the local district.
All the girls spoke brilliantly but it was the Intermediate Team comprised of Scarlett, Phoe and Aparajita whole stole the judges' decision. Their talk on the subject of Community and Belonging impressed the adjudicators with their skilled presentation, organisation and impassioned closing vote of thanks. The dynamic trio will now go on to represent the school at the next round of the competition on March 9th.
Our thanks and congratulations go to the following girls who also took part in the competition: Camille Tissut,Arundhati Gupta,Rosie Lawrence, Amelie Ashley-Timms, Astha Doshi, Ayanna Pahil, Isabel Hawthorn, Minerva Arshad, Megan Daykin
Ms Litterick, Head of English