West Midlands Businesses Support SGGS Students During National Careers Week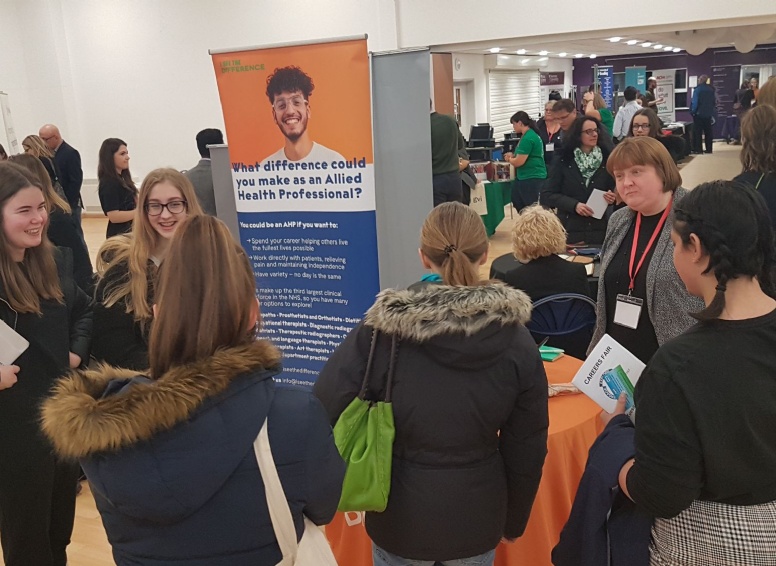 National Careers Week (NCW) is a not for profit organisation that aims to promote the importance of good careers in school and college education.
The Careers Fair exhibition, held at Stratford Girls' Grammar School during the first week of March, aims to empower, engage and explore students' thoughts on future employment. This year, businesses and educational institutions from across the region gave their time to provide invaluable insight into the world of work and suitable career paths for achieving career goals.
Diverse employers and global brands were on hand to speak to students and parents, raising awareness of entry level programmes and openly discussing what they look for in future applicants. Exhibitors included Rolls Royce, Jaguar Land Rover, Aston Martin, Barclays, Gowling WLG, Oxford Space Systems, Blue Zoo Animation, Warwickshire County Council, Royal Air Force (RAF), the Army and many more.
Coventry University and Nottingham University held talks on researching courses and applying for competitive universities; covering aspects such as what admissions tutors expect, completing additional admissions tests and writing personal statements. Other educational institutions present included University of Bath, University of Birmingham, University of Bristol, Loughborough University, Lancaster University and Cardiff University among others.
Representatives of TalentTech Recruitment provided a CV drop-in clinic, offering advice on best practice techniques when applying for jobs. This included a free CV assessment, suggestions on making applications, preparing for interviews and consideration of social media use. The company also shared some helpful tips regarding gap years and work experience.
The Apprenticeship Support and Knowledge for Schools and Colleges programme (ASK) were also on hand to provide further understanding of the apprenticeship route and how this may be beneficial for students with specific career objectives.
A host of events took place throughout the week following the Career Fair, including KS4 students competing in teams for the opportunity to represent the school at the National Enterprise Challenge, in association with sports-nutrition brand Grenade. Lear Corporation, a global automotive technology leader in seating and E-Systems, visited to offer insight into opportunities for women in STEM such as engineering, design, accounting and purchasing jobs. The school also celebrated World Book Day, hosting a special assembly dedicated to careers in teaching and writing.
Jo Pearson, Stratford Girls' Grammar School Careers and Work Experience Coordinator, said, "We were delighted to welcome nearly 150 families to our latest Careers Fair. The opportunity to speak with actual employers is invaluable for our students and often they are speaking to alumnae, who return to pass on their knowledge and experience. We would like to thank all of our exhibitors for the time they have shared and inspiration they have provided to our students".
In addition to National Careers Week, Stratford Girls' Grammar School offers students a wide range of opportunities to gain work experience in partnership with other local schools and employers such as Holy Trinity School and The Shakespeare's Hospice. As part of an ongoing enrichment initiative, students take regular trips to external career events and open days at the likes of Keble College, Oxford.