Outstanding Results in International Chemistry Competition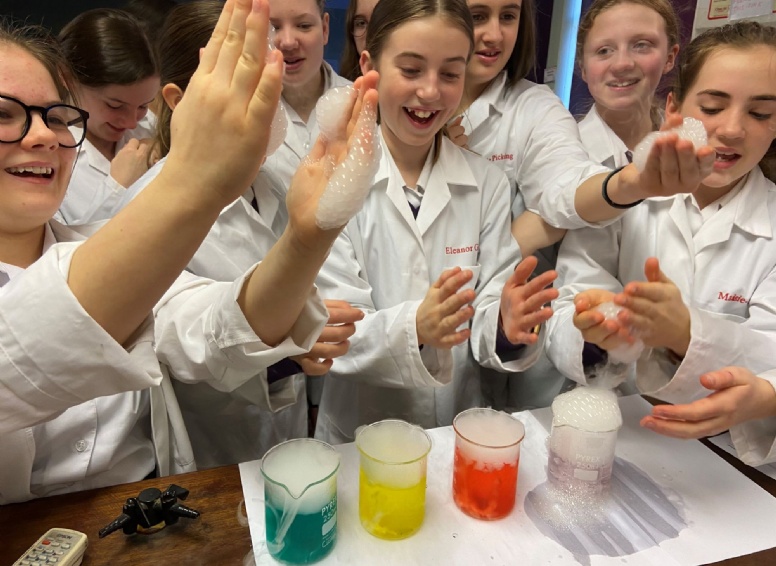 We celebrated British Science Week in style this month, participating in exciting projects and receiving tremendous results in the first stage of a prestigious competition.
The UK Chemistry Olympiad, in association with the Royal Society of Chemistry (RSC), is the leading chemistry competition for students in secondary education. The annual competition consists of three stages and will end with four students representing the UK at the 52nd International Chemistry Olympiad.
Round one results, based on written submissions, have now been announced with SGGS performing strongly, achieving a very impressive 25 awards collectively. In total, 22 Sixth Form students were awarded bronze and silver scores for their submissions, with Year 13 students Charlotte, Megan, Vanessa and Charlotte achieving high-level Gold awards.
This UK Chemistry Olympiad is designed to inspire students to push themselves and excel in the chemistry field, developing critical problem-solving skills, learning to think creatively and test their knowledge in real-world situations.
Due to recent developments with the coronavirus (COVID-19), the RSC has altered the second round of the competition, with a replacement online event currently being organised for students who qualify to participate.
The great result for this stage of the competition was followed by several exciting events during British Science week. An assembly was held on the topic of why some science fiction ideas become reality and the issue of sustainability in both energy generation and materials science.
Other activities included a poster competition celebrating the diversity of the planet, a competition revolving around inventive future technology, an engineering challenge to build a gravity water system (using straws, masking tape and foam cups) and unique lessons that involved the creation of lava lamps, magnetic slime and 'elephant toothpaste'. Many students also took part in a school-wide baking competition.
Dr. Joanna Geden, Teacher of Chemistry at Stratford Girls' Grammar School, said, "British Science week is a fantastic initiative that raises awareness, sparks enthusiasm and celebrates STEM learning. Students from every year group find the activities during this week enriching and often discover a newfound passion for the sciences. We are very proud of the creative work our students have produced and the results they have achieved, which have been outstanding."