Meet Our Newest Members of Staff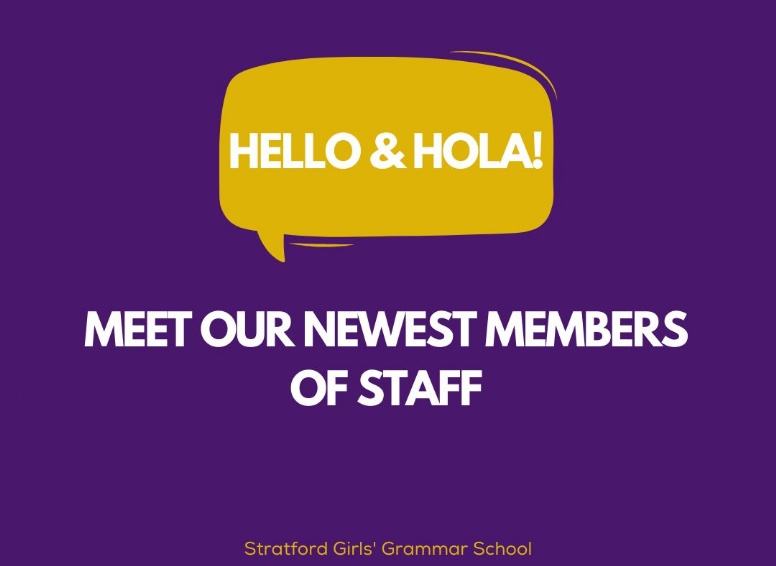 We would like to extend a very warm welcome to our latest staff additions at Stratford Girls' Grammar School. After the Easter break, we are joined by Mrs Pemberton (Teacher of PE), Miss Gonzales (Head of Spanish) and Mrs McGuire (Sixth Form Administrator).
In today's blog post, our three latest additions to the SGGS community take the time to introduce themselves and share their excitement at joining our school.
Mrs Pemberton – PE Teacher
I have always loved sport & exercise and completed my Sport Science degree at Leeds University. Netball was a big part of my childhood and I played in the England U17 team in 2002. I went travelling around the world when I was 26, which included teaching English in Cambodia, learning Spanish in Chile, and doing a skydive and two bungee jumps in New Zealand! I am now a mother to Grace and Jude; I coach gymnastics and both practice and teach yoga. I am very excited to be joining SGGS and look forward to us all being back at school soon.
Miss Gonzales – Head of Spanish
Hola! I am thrilled to join the MFL Department as a Head of Spanish. After I completed my degree in English Studies and Translation, I decided to come to the UK in 2013. This was a key moment in my life, as I truly discovered my passion for education. Since I completed my teacher training, I have been teaching Spanish in a range of different schools and universities. I feel privileged to be working at SGGS and being able to inspire and empower girls to pursue their career. Looking forward to meeting you all!
Mrs McGuire – Sixth Form Administrator
I have always had a passion for Science and for helping people. Over my career I have had various different roles, I relish new challenges and learning new skills. I have three daughters, all under 10, who keep me busy at home. If I get chance I love to curl up with a good book, I could read Angela Carter over and over. I enjoy being active, horse riding and bouldering. I recently climbed Crib Goch on Snowdon which was a fantastic experience! I am looking forward to the new term and I cannot wait to become part of the SGGS Sixth Form team