Natasha Henderson, Maths Teacher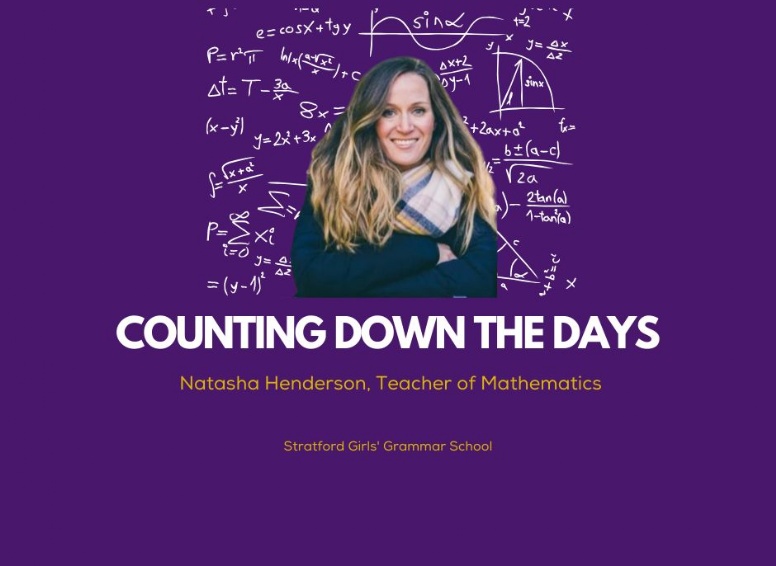 In our latest isolation blog, SGGS Teacher of Mathematics, Natasha Henderson, shares her thoughts on the unique experience of living through lockdown.
For two months now, we have all had to adjust to a new way of life. Friday 20th March was a very strange day. Saying goodbye to Year 11 and Year 13 students earlier than expected and not knowing how long it would be until I would see any students or colleagues again, almost didn't feel real. I made sure I took all of my desk plants home to keep healthy and safe along with anything else I I would need to work from home. I would be back in school at some point to help out with students who have key worker parents, but wanted to ensure I was fully prepared.
Working from home
On Monday 23rd April, I sat down to my desk/dining table and opened up Microsoft Teams ready for my first day of virtual teaching. I was so thankful for the amazing Maths department, the new IT software and the IT support during the first two weeks of online teaching. It was a steep learning curve for everyone! At home, I don't have to commute, I get to have lunch in the garden with my husband, I am able to do more exercise, can work in my slippers and have my cat to keep me company; yet I would much rather be in my classroom, interacting with my students and seeing my colleagues around school each day. Lockdown has reaffirmed how much I love my job and why I became a teacher.
Time to spare
Now that all of my activities have been cancelled, I have found myself with a lot more time on my hands. I am someone who likes to use time wisely and during the first week of lockdown I wrote a (very long) 'to do' list of jobs that needed completing around the house, much to my husband's dismay! The list included things like taking up curtains, painting, weeding, upcycling a sideboard, finishing off a photo album, constructing some shelves and doing a drawing for a friend's 1 year old. Not to mention many other menial tasks that probably would have remained on my eternal to do list. Thankfully, I have been ticking off one or two jobs every couple of days, feeling productive outside of schoolwork, and our house is looking more and more homely.
Out and about
Besides doing odd jobs around the house, I have been exploring the countryside and all of the footpaths that we never usually walk down. With the weather being so nice I have tried to get outdoors after school to get some fresh air and have an explore. Before lockdown I would think about my running route, how long I would expect it to take me, how far I managed to run last time without walking etc. Now, I am running for the enjoyment of running, trying not to focus on my speed and enjoying finding my way across fields, down footpaths and off the roads, without an actual destination in mind. I am not the best at navigation, so after about 20 minutes I have a look at my phone and then try to work out how to get home!
Through friends on social media I have also got involved with the Run 5, Donate 5, Nominate 5 idea; running to raise money for the NHS. When I have felt less inclined to go for a run, I have done some HIIT classes and yoga videos to switch things up after a day at my desk.
Social benefits of social distancing
A silver-lining of the situation we find ourselves in, is finding time to catch up with friendship groups more regularly than normal. My university friends live all across the country, with some living in New York, so it's difficult to find time to get together. Since the end of March, we have been doing a quiz together every Tuesday, with the loser creating the one for the following week. We have also been doing a Virtual Pub Quiz every Thursday with a different group of friends after clapping for the NHS.
My sister lives in Switzerland and has been working from home as well, so I have been able to catch up via video calls with her more than normal. I have been able to explore the sofa dens her sons have made, seen the plants they are growing in their garden and have been read books by her eldest son, who is only 5! We have also been chatting to my 102-year-old grandad more regularly. He has carers who help him in the morning and evening and they helped set up the Facebook Portal we bought him just as we went into lockdown (a tablet with a smart camera that follows you around the room). It has made it so much easier to communicate and he is loving being able to chat with all of his family, both in the UK and around the world.
Looking forward
I cannot wait to see my family and friends again in person and give them each of them a massive hug and enjoy going out and about again. Whilst I have kept busy during this time, I am also learning to 'stop and smell the roses', appreciating a slightly slower pace of life.