Lily Jackson, SGGS Alumna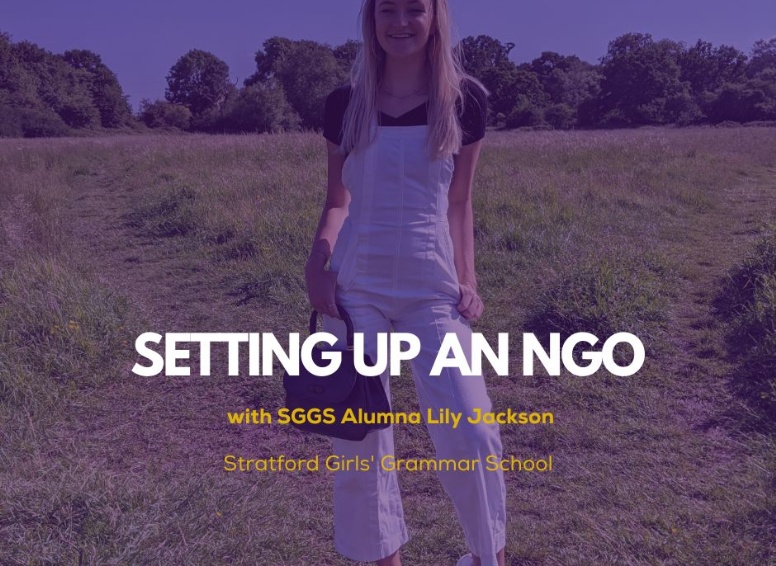 In the latest addition to our blog series, we hear from a former SGGS student who has continued to succeed since graduating from our Sixth Form.
Lily Jackson, who studied at SGGS until 2018, is currently studying BSC Politics and International Relations at Bristol University. As part of her degree, Lily has teamed with three other women to devise an NGO. An NGO is a non-profit organization that operates independently, usually with an aim or purpose to solve, address or raise awareness of a social or political issue.
Lily is now taking her project beyond the hypothetical and laying the foundations to apply her business model to the real world.
Over to Lily …
Due to the COVID-19 pandemic, my education (like that of many others) has had to be adaptable and flexible. My university course would normally include a work experience placement but with this not being possible, my final project changed and tasked me with building a hypothetical NGO business plan. I joined three other female students, one from Australia, one from Switzerland and another from the UK, to work on my project and (just like the students at SGGS) we have worked collaboratively in a virtual environment over the internet.
Together, we devised a hybrid-online platform and charity shop that would be multi-functional in order to create an ongoing pipeline of fundraising. The general concept was to give members of the public the chance to sell on or swap clothes they no longer wanted and break out of the cycle of not knowing what happens to clothes when they are discarded. We established a points system for every item that is bought, motivating customers to make donations and convert these into raffle entries – with experiences to be won donated by businesses also looking to aid the cause. We were inspired by the response to the Australian bush fires and the ability to raise awareness generally around ethical purchasing.
We chose to base our model around sustainable fashion and fair wages for Bangladeshi workers after seeing a recent documentary about the need for conditions and workers' rights in the area. We reached out to one of the organisations who currently tackle the issue, the National Garment Workers Federation (NGWF) and after receiving a very positive response to our idea, we began to realise our hypothetical business plan could be used to change lives for real.
We have begun running surveys on social media to gauge interest in the idea and the response has been overwhelming. The next step, now that the model has been submitted for our university degree, is to secure grants, sponsorship and funding to convert the idea into reality. We have already established long-term budgeting requirements and begun contacting and applying to relevant bodies, including trademarking the name, which hopefully I can share with you soon!
I remember my time at SGGS fondly and have the teachers to thank for my interest in Politics. This was never something I had even considered until I spoke to the passionate members of staff at SGGS and decided to give it a go. I ended up wanting to continue this beyond my time at the school and I still remain in touch with the department two years later. I also fondly recall being inspired in Sixth Form by the Bronze Arts Award course, which was part of my extra-curricular learning and development. This included making items to sell and fostered my critical thinking around business ideas and collaboration, skills that have certainly aided me in my post SGGS career.
Once lockdown is over, I am keen to return to SGGS and share some of my experiences since I graduated with the current students. This was something I always found really useful when I was a student there, hearing the stories of alumnae and being able to ask them for advice on the opportunities available. I might even have a clothes donation or swap initiative to share with you by that time, which might be fun to get involved with!