Aimee Shares an insight into the benefits of LAMDA and reveals how her time at SGGS has contributed to her career.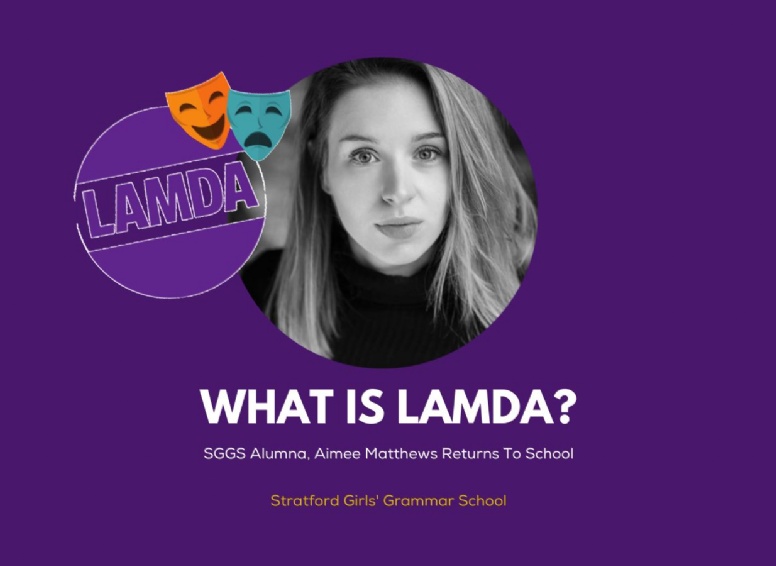 In our latest blog, Aimee Matthews, SGGS Alumnae and Teacher of LAMDA, shares insight into the benefits of LAMDA and reveals how her time at SGGS has contributed to her career.
Over to Aimee…
LAMDA stands for the London Academy of Music and Dramatic Art and is the oldest drama school in the UK. LAMDA Examinations are available to students in the fields of speech, drama, communication and performance, all of which are recognised by Ofqual, as well as Level 3 and above recognised by UCAS. The current chancellor of LAMDA is Benedict Cumberbatch, who many of you will know as Doctor Strange or Sherlock Holmes!
It is very exciting for me to return to SGGS and share my passion for LAMDA with the current students. The interest shown in these courses has been phenomenal and we are already seeing some fantastic contributions from those involved.
My time at SGGS
I originally moved to SGGS from another local school that did not fit my personal requirements. I found myself leaving a situation where nobody seemed to know my name, to an environment where I instantly felt valued and part of a community. I completed my GCSE's and then stayed at SGGS for Sixth Form to do my A-levels, eventually graduating in 2009. During this time, I took LAMDA myself, which helped contribute to my love of performing arts.
After leaving SGGS I went on to Birmingham School of Acting for 3 years, followed by a year studying Musical Theatre at the Royal Academy of Music. I then achieved a job with the RSC and was lucky enough to be part of A Midsummer Nights Dream. I wanted to explore stable opportunities whilst doing what I loved to do, which led to me looking into teaching LAMDA courses and focusing more on my passion of helping others, especially young people.
Returning after a decade
This term has been the first time I have returned to SGGS since completing my studies and it feels wonderful to be back. The Drama department at SGGS is a major reason I have been able to enjoy the career I have had so far; their support and guidance gave me the confidence to do what I love. Now, I am relishing the opportunity to try and be that confidence enabler for the next generation of students finding themselves at SGGS, just like I did. I feel very strongly that young people deserve to have a voice and must be able to overcome obstacles like fear and shyness. It is important they can be heard and have the ability to disagree openly when they feel the need to.
We quite often get strong interest from students when we offer LAMDA courses to them, but the response from SGGS students has been exceptional. We originally planned to attend school one day per week but this has been extended to three days due to demand, with a waiting list and more potential groups to come. I know from my time at SGGS that the students are particularly driven to succeed and will undoubtedly see the benefits of attending, whether for personal development or to obtain very useful UCAS points towards university.
Individual mentoring
With 47 girls applying from Year 8 and 15 Sixth Form students, there is no doubt that optional enrichment activity is still very popular at SGGS. Due to Year group bubbles being in place as a consequence of COVID-19, we have split groups out into around ten students per session. But this has not impacted us compared to how we want to work, as LAMDA aims to focus on the individual needs of each student taking part and ensuring they get the focused time needed to help them progress. Whether its public speaking, acting or verse and pros, we aim to find what inspires young people. This can vary from an established love of performance or even avid readers who will learn how to bring a section of their favourite book to life. It's always easier to learn if you are doing something you love.
We have certainly found that achieving good results in LAMDA boosts a feeling of confidence and capability amongst students. Standing in front of others to perform does not always come naturally and can be a daunting challenge to overcome. When a student overcomes this and then receives a formal certificate to illustrate their achievement, the benefits are long-lasting, sometimes even life-changing. This is why we are so proud to have an incredibly high pass and distinction rates.
What next?
After the demand for and success of our current LAMDA offering, I am hoping that even more year groups at SGGS will be able to benefit from our courses in the not too distant future. The first exams for current SGGS LAMDA students will take place in 2021 and we are all looking forward to the sense of pride and achievement that follows.
I am delighted to continue being able to give back to SGGS and encourage more students to find themselves. I am committed to helping others in a similar way to how I was helped at school, enabling students to embark on fulfilling career journeys and approach their futures with determination and confidence.