Congratulations to Jess Greenwood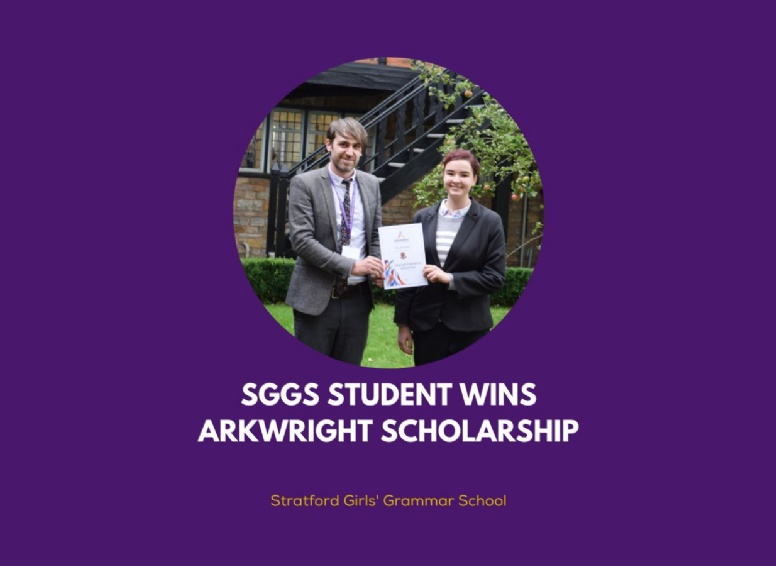 Stratford Girl's Grammar School student Jessica Greenwood has been selected out of over 1,200 entrants to receive a nationally recognised Arkwright Engineering scholarship.
The Arkwright Engineering Scholarships programme is run by registered charity The Smallpeice Trust and has awarded opportunities to young people in the UK for almost 30 years. It is the most prestigious scholarship scheme of its type in the country and every Scholarship is sponsored by a commercial company, trade association, university, professional institution, armed service, government organisation, worshipful company, charitable trust or personal donor. This means that support ranges from hands-on work experience, curriculum project support and personal mentors to aid with aspects of studies and future career planning.
The awards are open to students studying any combination of STEM GCSEs, Scottish National 5's or equivalent and who have a genuine interest in a future career in engineering, computing, or technical design. Thousands of students compete for a place on one of the scholarships available every year by submitting work and taking a two-hour aptitude exam, then if shortlisted, taking part in an interview hosted at a university.
Jessica, who is currently in Year 12, succeeded at interview and has attained one of the handful of scholarships awarded this year, in addition to receiving a £600 grant, a personal sponsor, a professional mentor and much more. Stratford Girls' Grammar School will also receive £400 for investment in their Design and Technology department as part of her achievement.
Unfortunately, due to the ongoing COVID-19 restrictions in place, there was no Annual Award Ceremony in 2020, but Jessica was still delighted to be presented with her Arkwright Engineering Scholarship Certificate and badge at school.
Jessica decided to enter the Arkwright scholarship to continue her passion for engineering and design. On winning the scholarship, she said, "I am hoping to go into science or engineering in the future, as my interests vary from AI and computer science to sustainability in the automotive industry. It means a lot to have won this prestigious scholarship because I am passionate about encouraging younger people, especially girls, into engineering and STEM. The funding will support both DT provision at my school and my own studies. I am really looking forward to getting started with my scholarship!"
Luke Price is Head of Design and Technology at Stratford Girls' Grammar School, he said, "Jessica has always demonstrated a real drive and determination to deepen her knowledge and experience in the field of Design and Engineering and is a real ambassador for STEM at our school, so for her to be awarded an Arkwright Engineering Scholarship is hugely exciting. This recognition is well deserved; she is an exceptionally talented student who has a very bright future in a STEM career. At a time where good news is a premium, it was wonderful to hear of her success, we are all so pleased for her!"
Stratford Girls' Grammar School is based in Shottery and is a fully selective girls' academy state school and Sixth Form, consistently ranked as one of the top 30 state schools in the country. The school rolled out a comprehensive virtual environment in under one week in response to the COVID-19 pandemic, and has since welcomed students back to school in-line with latest government and public health advice.