What To Expect on Wednesday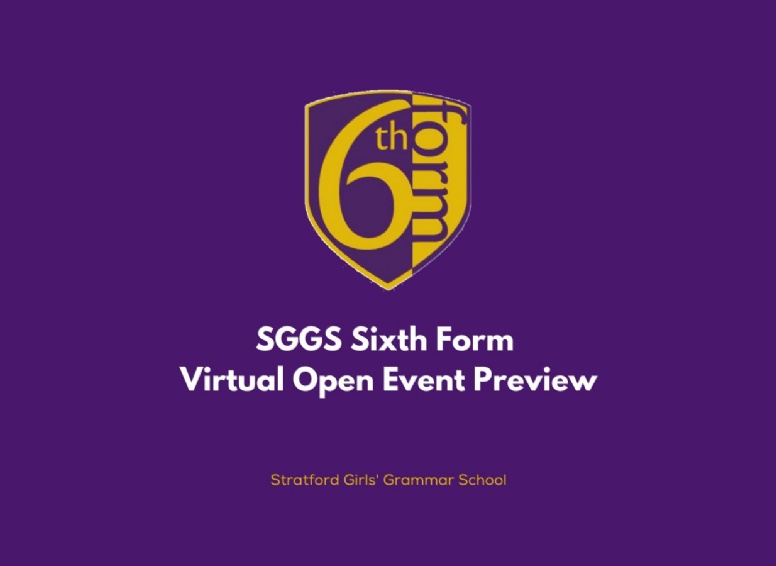 In our latest blog, we preview tomorrow's Sixth Form Open Event and detail how this unique year promises to be a truly unmissable occasion.
Virtually the same
Whilst students and teachers were both delighted to get back to school this term, the summer lockdown did provide some positive insight into the technological capabilities of SGGS. We learned how to successfully implement a virtual teaching environment across the entire school at speed with minimal disruption to learning. We found that important lessons, discussions and decisions could be made safely in a virtual environment and still lead to successful outcomes. That is why SGGS recently adopted the same methodology to Parents Evening, and following the success of that virtual event, will conduct tomorrows Sixth Form Open Event in the same way.
Upon digital 'arrival', visitors can expect to be virtually welcomed by Headteacher Jacqui Cornell and will then be guided to a 'Life in the Sixth Form' piece, designed to be a snapshot of what it really means to be at SGGS for A-levels study . Four additional films then cover student discussions on topics such as pastoral care, choosing the right subjects and the associated workloads in Year 12 and Year 13. Further information on our unrivalled enrichment choices, societies and speaker programmes will also be included.
Much like over the summer, our students have been hard at work on videos too. Current Sixth Form students from Year 13 have produced Subject Videos to share insight on what they did in advance to hit the ground running in their chosen course and give some honest feedback on what the main highlights and challenges of A-level study have been. The hard work, effort and professional approach of the students in these videos is an example in itself of what the next generation of SGGS Sixth Form students can aspire to be.
Why SGGS Sixth Form?
SGGS Sixth Form is all about providing opportunities for young women to showcase and explore the very best version of themselves, and provide them with the right foundation for their onward journeys after A-levels. It's about more than just academic study and success. For example, over the past 7 years, approximately 110 students have completed Young Enterprise. Our teams have won the local (South Warwickshire) competition 6 times and the regional competition (Coventry and Warwickshire) twice; picking up 37 trophies along the way including Best Performance, Best Marketing, Best Presentation, Most Innovative Product and Best Company Report.
Outcomes are important and SGGS Sixth Form results have always been outstanding. In 2020, 90.4% of all grades were at A* - B and over 63% were A* - A. Remarkably, 25% of all grades were A* which represents a 10% improvement on the year prior. Whilst 2020 Extended Project Qualification results are still predicted currently (confirmed results are available in January), predictions show these increases will remain consistent.
Year on year, over 95% of our students go on to their first-choice university, and the vast majority of these are Russell Group universities. In 2020, 7 students took places at Oxford or Cambridge. Some of our students have gone on to pursue highly competitive Degree Apprenticeships, with leading companies including JP Morgan, Lloyds Bank, PWC and Jaguar Land Rover to name but a few.
What else is coming up?
Following our Open Event is our 'Sixth Former for a Day' for current SGGS Year 11 on Friday 20th November 2020. The normal Year 11 timetable will be suspended on this day and give all students a taste of A-level lessons. Everyone taking part will have exclusive use of the Manor including the common room and study rooms, as well as the opportunity to investigate other aspects of Sixth Form life. There will be someone available all day in the Sixth Form office should students have any questions at all.
Our virtual event will provide a great opportunity to visualise life at SGGS Sixth Form. It is our aim for the information provided at this event to be as comprehensive and beneficial as any physical visit would be. Please join us by visiting the SGGS Website on Wednesday 18 November from 6pm.
You can view a copy of the SGGS Sixth Form Prospectus right now by clicking here.