Ms Dent & Mrs Bradley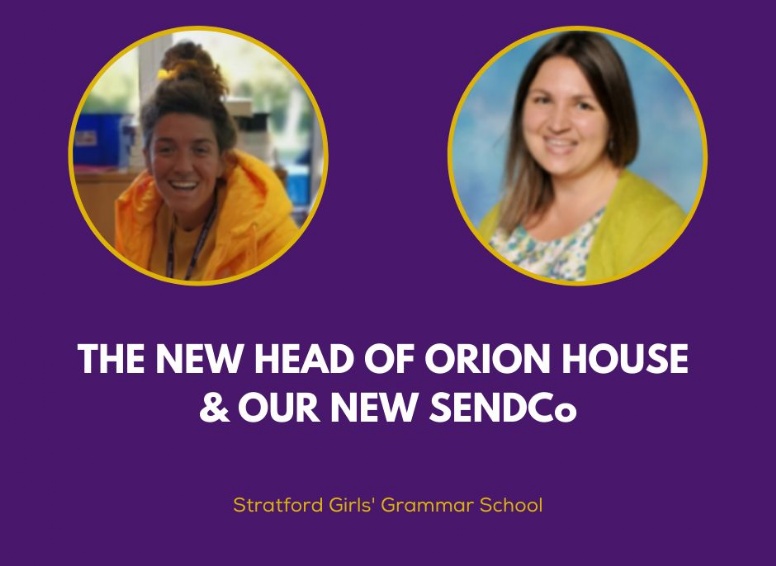 Earlier this week, our blog series introduced our new Head and Deputy Head of Sixth Form. We are delighted to continue these introductions today as two more members of staff celebrate recent transitions. As of this week, Miss Dent will be taking up the position of Head of Orion House and Mrs Bradley will be taking up the position as SENDCo.
In today's blog post, Miss Dent and Mrs Bradley explain what these new responsibilities and opportunities mean for them and for all SGGS students.
Miss Dent – Head of Orion House and Joint Head of PE
I'm Miss Dent and this is my fourth year at SGGS. First and foremost, I am a PE Teacher who is extremely passionate about physical education and the role it plays in maintaining the well-being of students. Earlier this year, I expressed my passion for the subject by taking on the role of Joint Head of PE alongside Mrs Scott.
As I transition into the role as Head of Orion House, my commitment to PE will not change as I will continue my responsibility as Joint Head of PE alongside this. For the students, I will continue to teach every year group in KS3 and KS4 as well as the U18 Netball Academy. I will, however, lose my responsibility as a tutor and therefore no longer be CY3 or 8C's, tutor teacher. This will be a tough responsibility to give up, but I know the students will continue to excel with their new tutor.
Although I am switching Houses from Cygnus to Orion, I am excited by the challenge this new role represents and I am looking forward to supporting students further whilst working as part of the wider pastoral team.
Mrs Bradley – SENDCo and Teacher of English
I have been a member of the English Department and an Ursa House tutor at SGGS since 2018. In my new role as SENDCo, I'm looking forward to working on a more 1-2-1 basis with students and their families and collaborating with my teaching colleagues, exams team and many more fellow professionals. I will continue to teach English as well and I'm delighted to continue working with classes of students within this inspiring Department
I'm pleased to say that I've met a large proportion of our school community through my existing roles at SGGS, but of course there will be some who don't yet know me well. I hope everyone will quickly recognise me as SENDCo and know that I'm here; ready to listen and happy to help.