Hear More From The Newest Members of Our School Community...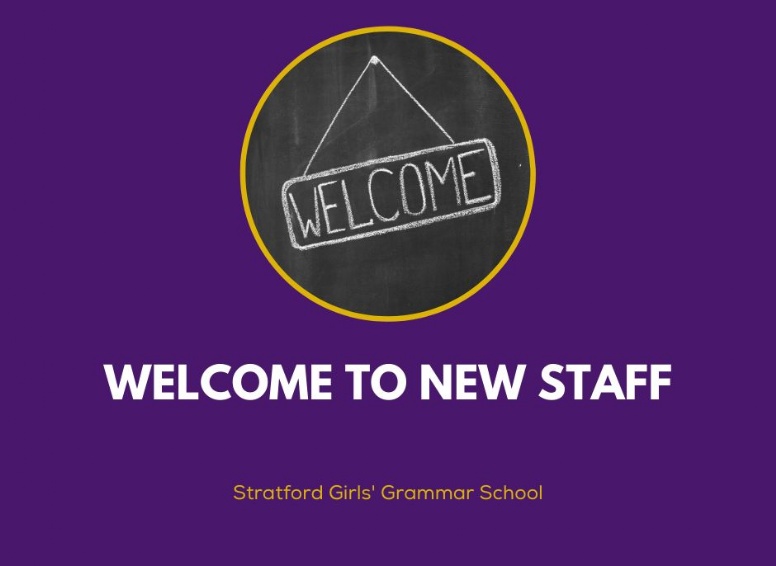 In this week's blog, we introduce our six latest staff additions to Stratford Girls' Grammar School and hear what they are looking forward to the most about joining the SGGS community.
Mrs Olivia Doughty – English
I'm delighted to be teaching English at Stratford Girls' Grammar School. Theatre is a passion for me and I have missed seeing live performances this year. I often visited Stratford to watch plays at the Royal Shakespeare Company Theatre when I was growing up so it's lovely to be back in this part of the country.
I studied English at Exeter University and took my Teacher Training course at Oxford. I started my career at John Hampden Boys' Grammar School in High Wycombe and later worked in Bath. Stratford Girls' Grammar School is a wonderful school and I am thrilled to be continuing my career in this special place.
Mrs Jackie Joesbury – Mathematics
I taught maths at SGGS for four years after a long career in the industry starting as an engineer and ending up trading carbon. I retired two years ago with plans to travel which were unfortunately brought to an abrupt end by the first lockdown. Having admired from afar the huge amount of effort made by schools, students and parents to adapt to the resulting upheaval in education, I was excited when the opportunity arose to come and play a small part in this at SGGS.
It's been strange to come back to somewhere so familiar that is working in such a different way but it's great to be here and I'm really looking forward to hopefully meeting my classes face-to-face before too long!
Dr Tracy Irish – Religious Studies
I have always been really interested in how different people see the world and how they communicate what they find. That's why I love travelling - and it's why I love helping students to express and share their own views and ideas. That comes into all sorts of subject areas, so although my background is English and Drama,
I'm delighted to be teaching RS, EPQs and a tiny bit of Science at SGGS. I did my PhD on Shakespeare and Education at Warwick Business School, working with experts across many different disciplines. When I'm not teaching at SGGS, I work for the Education department of the Royal Shakespeare Company and I teach at the Universities of Birmingham and Warwick. What I'm really looking forward to is talking with my students in person rather than online!
Mr Ryan Jukes - Senior IT Technician
My career started when I left school and started an IT course at college. I was always the go-to member of the family for anything technical, so it fitted for a suitable career path. From there, I started as an apprentice at Redditch & Bromsgrove Council, before moving to be an IT Support Tech for both a national pub company and a global marketing agency.
Later on, I moved into education when I got the position of Senior IT Tech at my old secondary school, which is where I am joining SGGS from. Outside of IT, I like playing computer games, keeping fit, playing golf and watching football among other sports. I'm happy to be joining everyone at SGGS and I look forward to meeting and supporting you all with your IT needs.
Miss Catherine Johnson – Food Tech
My best friend tells me my bookshelf looks like the cookery section in Waterstones! I guess that shows my love and passion for food (both eating and cooking it!). I love working with students and watching their skills develop on their academic journey. Since 2014 I have been an examiner with WJEC and for the last couple of years a senior examiner and now sit on the awarding committee.
One of the highlights of my teaching career was when an ex-student stopped me in the street after about 10 years of teaching him and he told me he still makes the dishes I taught him. Having been on SLT at a previous school, I have taught a variety of subjects throughout my career and will also be teaching computing here at SGGS. Outside school, I am an avid sports fan – I love English cricket and rugby and support Aston Villa FC!
Mrs Natalie Selby - Teacher of PE and Humanities
I am thrilled to be joining SGGS once again! Some of you may remember that I worked in the PE department last year and I am back this year teaching PE, History, RS and PSHE. I have been teaching PE for 15 years and prior to working at SGGS, I lived and worked at an international school in Shanghai, China.
This was a great opportunity and allowed me to travel around a lot of Asia. I am excited to be working with SGGS students once again as I know they are amongst some of the most hardworking and conscientious girls that I have ever taught.
Mrs Tania Underwood – Foreign Language Assistant, German