SGGS Student Rebecca Tells Us More...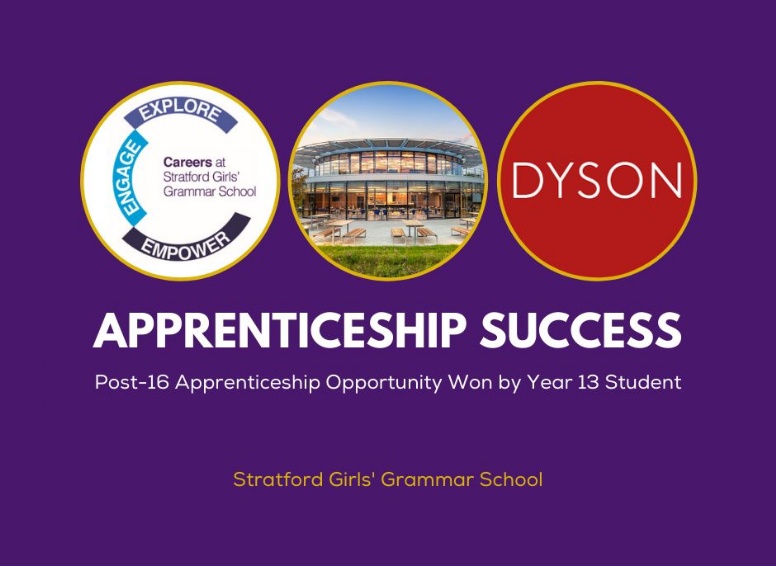 In our latest blog, Rebecca Green from Year 13 provides some insight into her forthcoming apprenticeship, working as an engineer at Dyson.
Over to Rebecca...
Dyson is a technology company that designs and manufactures household appliances such as vacuum cleaners, air purifiers, hand dryers, bladeless fans, heaters, hairdryers, and lights. I first became aware of apprenticeships with the company after they visited SGGS during a Sixth Form careers event in October and after carrying out further research of my own, I applied directly through the company website.
I found that many university courses were theory-based and involved little or no practical engineering experience. After having conversations with people in the engineering industry, I felt I should prioritise opportunities that included practical engineering experience as well. I looked into what the 4-year degree-level apprenticeship with Dyson entailed and I was impressed by the overall structure and ratio of theory-based study to practical work experience. It is still very important to have theory-based knowledge, especially when it comes to job applications after my studies, so when I found out the course offered the ideal balance of practical experience alongside university level studying, I was inspired.
The early stages
The overall application process was around four months. I submitted my application in November 2020, which included a personalised personal statement, similar to university UCAS applications, however I tailored my statement to Dyson and engineering. This was followed by online assessments and a telephone interview in December and then finally my virtual interview in January 2021. Out of over 700 applicants, only 30-40 people are selected for the apprenticeship which made this specific opportunity even more competitive than my Cambridge University application.
So far, I have attended an applicant day where I was able to virtually meet the lecturers and participate in ice-breaker activities, such as online escape rooms, with my future cohorts. I'm looking forward to attending more virtual events that are coming up soon.
What comes next?
My apprenticeship is due to begin in September of this year and will last a total of four years. My role at Dyson will consist of three days working at the Dyson offices per week and two days attending lectures at the Dyson Roundhouse. My studies will be on a 6-month rotation and are scheduled into four specialist areas: mechanical, electrical, software and new product development. After the first two years, I will choose a speciality and continue my studies for two days per week on my chosen subject. During the summer series, lectures stop as they would at university and apprentices are set challenges to complete. For example, in the third year, I get the opportunity to travel and work in Singapore and Malaysia with my class. I will spend the summer working in the Dyson offices and gain first-hand experience of their manufacturing department. At the end of the apprenticeship, I hope to receive my Degree and Level 6 apprenticeship qualification.
Explore every avenue
My advice to other students who are unsure about apprenticeships is to look at what appeals to companies you would like to work for. Whilst it is not for everyone, if practical experience working at a leading company is important to the businesses that interest you, do not be afraid to consider it. You can always apply and see what happens; you might be able to gain the experience of university-level studying with practical work experience as well, all while earning a wage at the same time.
SGGS students are very fortunate that there is great support available should they wish to utilise it. Mrs Pearson, Careers Advisor, supported me with both my Cambridge University and Dyson apprenticeship preparations by conducting mock interviews with me. Mr Mahony also supported me through my application stage as this is not done through UCAS and I had to specifically focus on Dyson and the apprenticeship specification.
I am thankful for the help I received and I am proud to have been chosen. I am really looking forward to gaining first-hand experience whilst learning and studying at the same time.