Being a Part of the Response to the Pandemic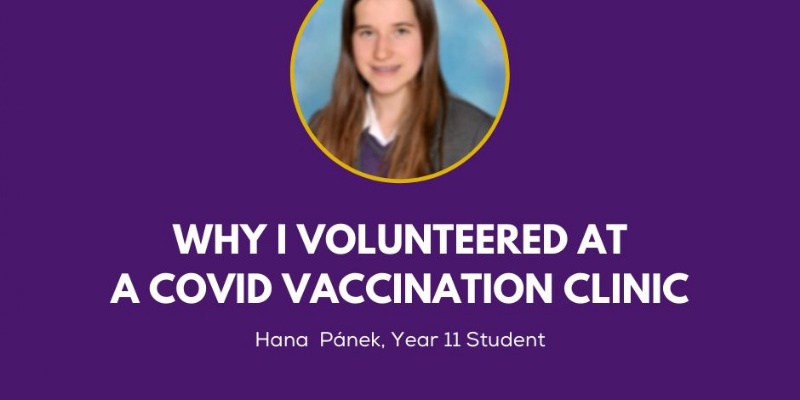 In our latest blog, Year 11 student Hana Pánek shares her experience of helping with the national COVID-19 vaccine roll-out and explains why she decided to get involved.
Over to Hana …
I heard about the opportunity at Warwickshire Golf Club through my family. My mother is a General Practitioner (GP), who also helps at the vaccine clinic and she gave me the details of whom to contact. I emailed asking for the chance to take part and I was delighted when they agreed for me to come aboard.
Why did you apply?
Helping at a coronavirus vaccination clinic has given me valuable work experience and I believe it will help me to stand out from the crowd in some of my future endeavours. This is a unique time and being part of the response against the pandemic is something I will always remember. We are all still living through history at the moment even if the world is starting to get back to some kind of normality.
I also know that this experience will be something that could appeal to universities when I make my applications in future. I am studying hard at SGGS because I want to become a doctor one day. My favourite subjects at school are Maths and Biology and taking part in medical-related work experience is great as it is expanding my own knowledge and understanding beyond my school studies.
How does it all work?
The volunteers organise the event and I was given the responsibility of taking vaccines from inside to outside, asking people questions upon arrival or directing them where they should go and what they should expect from the experience. I initially thought that the long hours would mean that I'd be bored by the end of each day, but instead I found it really interesting and there have been loads of people to talk to. Most of the time they are very appreciative and have been looking forward to receiving their vaccine.
As the patients are block-booked, they come in waves so at one moment it is busy and then in the next breath there is nobody, which means that we get random breaks here and there. This is a good system because it prevents you from getting too tired and means you stay alert and helpful for every vaccine recipient when they arrive.
What would you say to any other students thinking about volunteering?
Just go for it, there is no point being worried about it because it is usually more fun than you expect. There are loads of work experience opportunities; you just have to actively go out and find them.
For me personally, this has been a chance to work alongside and talk to people doing the job I want to do one day. Speaking with doctors and nurses will help me in the future and I am grateful that I have had this opportunity and experience.
SGGS continues to make health and safety its main priority throughout this challenging time. Students received coronavirus tests upon their return to the school premises this month. Arrival times for testing were staggered by Year Group, with students arriving through specified gates and attending designated areas to receive their test. After testing, students were required to wait until they have received a negative result, which took approximately 30 minutes. They were then free to join their timetabled lessons. Home testing kits have now been distributed. Beyond testing, students are required to wear a mask on their return to school within public spaces, including classrooms.