Showcasing Work from Year 7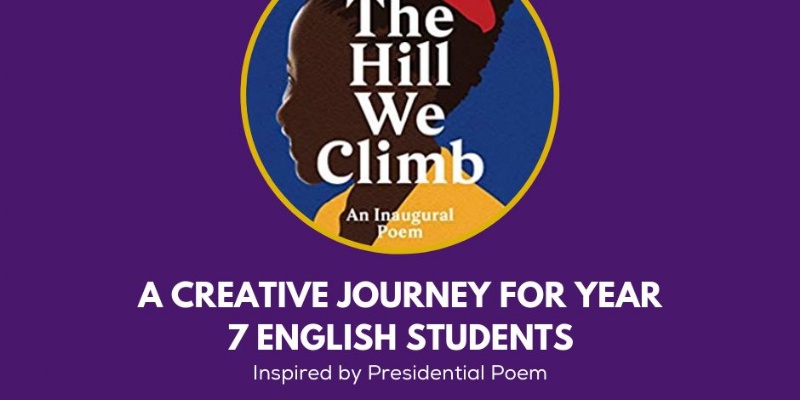 In this week's blog, Stratford Girls' Grammar School Year 7 students share their artwork and poems inspired by Amanda Gorman's 'The Hill We Climb'.
This poem was recited at the inauguration of President Joe Biden on January 20, 2021. At just 22 years old, Amanda is the youngest poet to recite at an inauguration and her poem was, for many, the standout moment of the star-studded occasion.
For 7C, this gave English students the opportunity to watch a live poetry performance and explore Gorman's language, structure and use of poetic form. They loved the rhythm of her performance; its punch and effortless use of allusion to strike home its message of unity and peace. Students in 7C compared Gorman's work with that of Maya Angelou (a notable influence on Gorman) having previously studied her extraordinary testament 'And Still I Rise'. There was tangible excitement as students used Teams break out rooms to discuss the two poems' similarities. In response to Gorman's work, 7C were given a choice of creative tasks to articulate their own voice – what the poem meant to them. Their results were sensational.

Over to 7C...
​
​ ​
​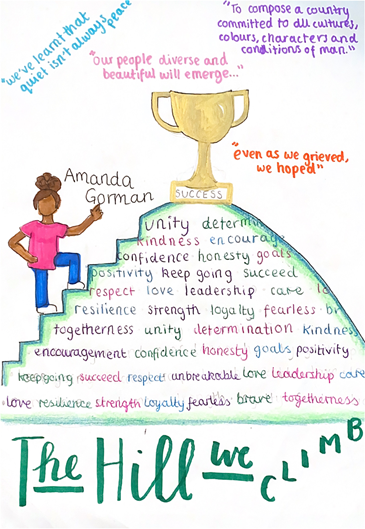 The Beauty of Difference by Zoë Wood
Each day, suffering endures,
People judged, mistreated, shamed
Just for their colour.
Those who believe they are better
Let prejudice cloud their vision,
Hating the ones that are different.
And those who know deep down in their hearts
What is right and what is wrong,
Turn blind to these frequent injustices,
Only seeing when it is convenient,
Only making the change when it is too late.

The past is the past,
And it must stay that way.
This is now,
Our chance to finally make things right again.
Why should we not accept those
That have done no wrong?
Opinions should be based from love, not looks.
We must treat these people from the heart,
With kindness and respect just like they deserve.
And we must ask ourselves:
Why do we stand by when our help is needed the most?
We should not punish the ones that are different,
These differences set us apart from the crowd.
We should not see either black or white,
Instead, a wonderful unique community,
Every person something new to bring.
Our differences must be celebrated, not shunned;
Diversity encouraged, not ignored,
So open your eyes,
Stand up for what is right.
Our differences are beautiful;
They are what makes us truly special.
A Voice Called…
When the audience comes
a speaker steps up
Whether a poet, an actor or a singer
When the tide comes in
a barrier rises to the challenge
Whether a cliff, a dam or even…
A rock
A small black rock
amongst millions of white pebbles
It became a barrier
Of the tide
Of words
From the moment it was small
From the second the world knew her name
She became one of many
She is one of many
Slaves
Dreamers
And most importantly:
Voices
They may be tight but soft,
loud and relaxed but everyone,
is strong
It hears a voice called
Joy,
small, gentle as light as a feather
but stronger than the burning sun
It hears a voice called
Peace,
booming but bruised,
hurt but famous for its perseverance
It hears the soul of diversity,
whispering riddles in its ear…
I hear hope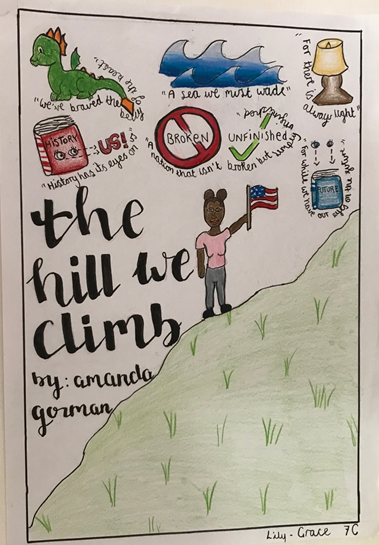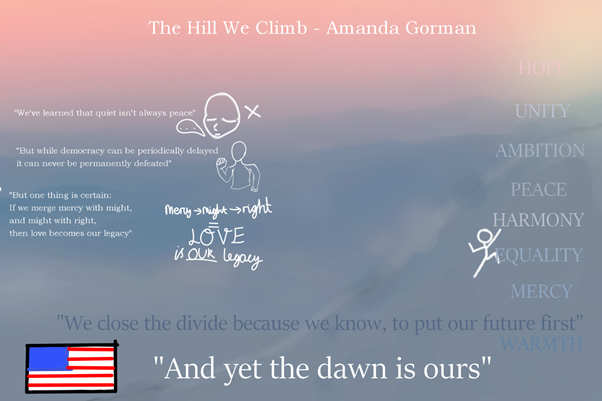 My poem/ rap:
Life is cruel you'll see just wait
Everything around me seems to shake
My legs are unstable I fall to the ground
But with my friend at my side
I was lost now found
But that year something had changed
A deadly disease a virus untamed
Then she started to slip away
On my hands and knees begging her to stay
She was my shoulder to cry on
Someone to rely on
She refused to give up
Maybe it was just bad luck
But I know she didn't die alone
because he had me not in person but on the phone
And so on that day I vowed
to never be arrogant or proud
to be like her in every way
like how she would always get up and smile at the day
I shall live on the path that she paved for me
And sit in the shade under our oak tree
this is how I will remember her as the angle that she was
and what she made me
Again and Again
Again and again they say
No
Again and again I ask
Why?
Again and again
They tell me the same
Life's not fair
You have a disadvantage
All my life I have heard those words
Life's not fair
So why not try to make it fair?
I ask
It's not possible
They say
You will always be different
It's just the way life is
And it's the way life will always be
We can't change nature
It's true
We can't change nature
But
Why not change what we can?
They pay no attention
We can change some things
They laugh
Life doesn't have to be like this
They sigh
What a difficult child, they think
They try to say it gently
What can you do about it?
You will never be able to be like other children
You cannot run, or jump, or play like them
You will hurt yourself
They think that will keep me down
No child wants to hurt themselves
They think I will give in
They don't know me
I'm hurting now
I say
So why make it worse?
They say
They think they are clever
But they don't understand
My body isn't hurting
But my heart is
Would you prefer my heart to break
Or my bones?
They chuckle drily
I'm sick of arguing
Hush
They say
They walk away
Again and again
They walk away
Tired of being contradicted
By a child
Again and again
They leave me alone
Hoping it won't give me hope
But
The more they leave me
The more I think
The more I wonder what I can do
I stare out of the window
The other children are outside
Running, jumping, laughing
I want to be like them
But I can't
I can't
I can't
Can't I?
The more I wonder
The more I know
I will prove them wrong
They might laugh
But I will work
They might crush my dream
But I will rise up again
Again and again
I will look to the day
Again and again
I will imagine their faces
When I ride the wind
Zooming out of the house
On four wheels
In a seat
In a wheelchair
Tightly screwed together with hope
Painted with determination
And covered with the varnish of satisfaction
And the triumph of achieving my dreams
Finally
So
Let them laugh
Because I know
Deep inside me
They're wrong
And I'm going to prove that