Head Girl Team and Year 7 Site Visit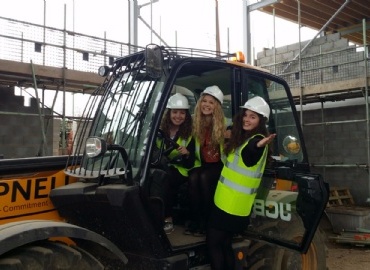 On Thursday 16 April, the newly appointed Head Girl Team invited three Year 7 girls to accompany them on a site visit to see how our new buildling is coming along. Here, they tell us about their visit.
After donning hard hats and hi-vis jackets, we were shown around the site by the Project Manager, Ian. The rooms have been defined and we saw the new drama studio, several new classroom spaces and offices, the new Student Services and Reception office, the enormous sports hall, assembly hall and dining room. There are two staircases and we saw the existing walls and windows of the old hall, which are soon to be covered up with new walls. We decided to invite every student and staff member to sign the glass windows before they are covered up forever, so that will be happening over the next week or so.
It was a real treat to be invited to have a look and we came away feeling really excited about the amazing new faciliites that will be ready for September - we can't wait!