Year 8 Trip to Santander, Spain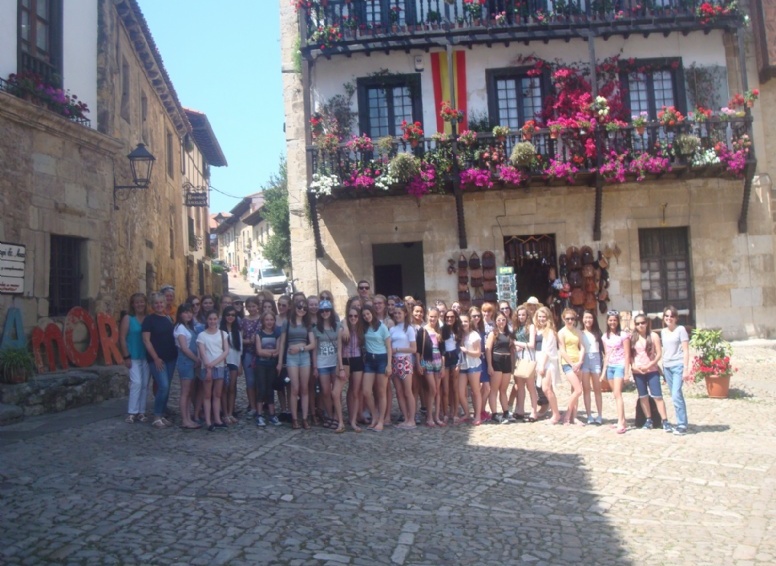 On 6 July, 44 Year 8 girls travelled to Santander, an area in Northern Spain which is sandwiched between beautiful mountains and a never-ending coastline.
Santander belongs to the Autonomous Region of Cantabria, an area which is part of what is known as Green (or Northern) Spain, and which is full of natural landscapes, and a unique artistic and architectural heritage. We stayed in Santillana del Mar, a beautiful mediaeval village which is also a National Heritage Site. During our stay we had chance to visit other heritage sites such as the villages of Comillas, and Potes, and we enjoyed paddling on the beach on a couple of occasions when our friend Lorenzo (i.e. the sun) dignified us with his blessing. We also visited the Picos de Europa, a mountainous area of outstanding natural beauty which was awarded the UNESCO Biosphere Reserve designation in 2002, and where we reached cloud-high peaks from the cable car at the foothills of Fuente Dé. Near the capital, we also enjoyed the Cabárceno Nature Park, where various species of animals live almost in the wild, and where one of the brown bears rewarded us with a cute display of cuddliness (from a safe distance, of course…). Baby gorillas tightly clinging to their mums were also great to watch.
Other evening activities included a very successful salsa dancing lesson (un-dos-tres, un-dos-tres), and Spanish card-playing, and, on the last day, we could not miss a typical Spanish Sunday breakfast (on top of the one we already had at the hotel) of chocolate con churros (¡ñam-ñam!).
We all had a wonderful time and a fantastic opportunity to experience what Spain is really like. Many thanks to the staff who gave generously of their time to accompany the girls.