Y9's Amy Performs with Nicola Benedetti & Wynton Marsalis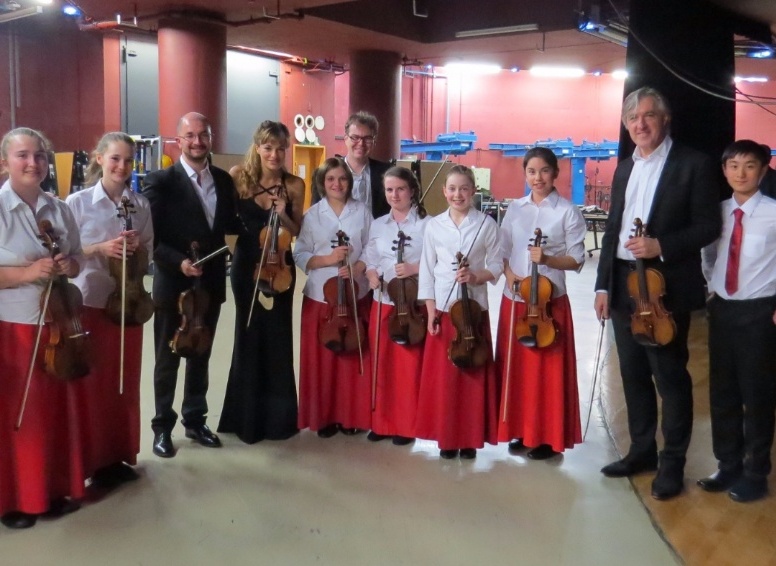 During the summer holidays, Y9's Amy took part in a course with the Under 13s Orchestra of the National Children's Orchestras of Great Britain, which led to the opportunity to perform with Nicola Benedetti and Wynton Marsalis. Here, Amy tells us in her own words about her incredible experience.
During the summer holidays I went on a week long course with the Under 13's orchestra of the National Children's Orchestras of Great Britain and went on to perform two concerts in Glasgow Festival Hall and Leeds Town Hall with Nicola Benedetti and Wynton Marsalis.
We found out during the concert that Nicola had become Vice President of the NCO with the condition that she got the opportunity to play with some members of the orchestras. Nicola also announced that she would ask Roger Clarkson (the Director of Music at NCO) to pick eight string players from the 200 at NCO to perform with her in the Birmingham Symphony Hall Concert of her UK tour. Shortly afterwards, I received news that I had been chosen to perform - I was absolutely thrilled!
Soon after this we received our music (Vivaldi's Concerto in G major Opus. 23) for which we had just three weeks to practice thoroughly before the concert. We had two rehearsals prior to the concert without Nicola and then a short rehearsal with her on the actual day of the concert, after watching her rehearse Vivaldi's Four Seasons with her small ensemble of selected musicians. During the rehearsal she organised positioning on the stage and bows, and also gave us some tips and advice on how to play certain parts of the piece, even though she stated there wasn't much to improve on!
After our 2 hours in Symphony Hall we were able to go out and have a quick meal before returning at 7:15pm to get ready for the concert which started at 7:30pm. We listened to the first half of the performance backstage before being presented by Nicola herself as a surprise to the audience to end the first half. We then performed our piece with Nicola and her musicians (who played quietly in the background) and, being violin 2 out of the four violins, I got to stand next to her when we were playing! The piece went very well and we received a huge standing ovation from the audience after playing, which was an incredible feeling.
In the second half we watched the rest of the concert from the best seats in the house which had been especially reserved for us and, once it had all finished, met Nicola backstage to take individual photos and even get her autograph! It was a life-changing experience and I loved every single second - I will definitely never forget it!
​"It was a marvellous concert where Nicola Benedetti spoke of the importance of supporting young musicians and she called them her very special guests. Amy looked perfectly as ease playing in front of the huge crowd and playing right next to the international star, I am sure that she will remember the whole evening for a very long time and that it will really inspire her to aim for the top." - Mrs Beetson, Head of Phoenix House and Head of Art.