Groundbreakers & Gamechangers Conference at Merrill Lynch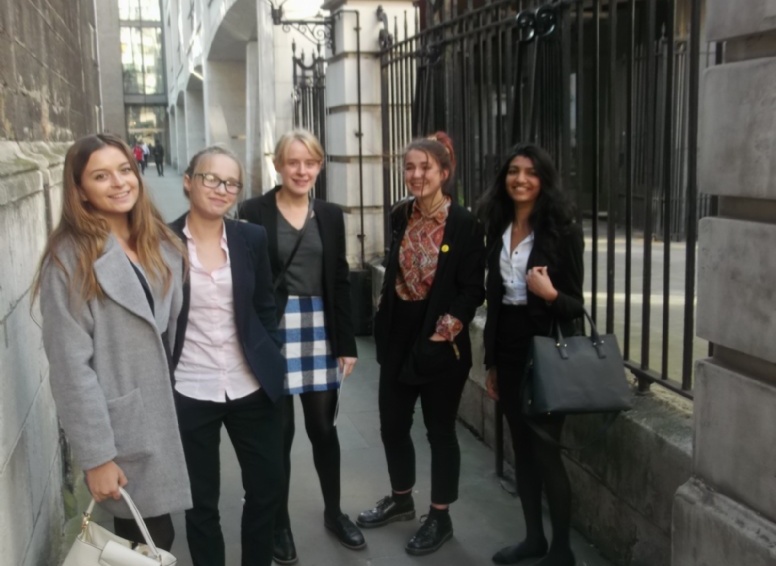 On Friday 2 October, five Year 12s set off for an exciting conference on groundbreakers and game-changers, held at the impressive offices of Merrill Lynch in London. Here, Year 12's Tabby tells us about their day.
Based at Bank of America Merrill Lynch, our day started with an interesting introduction address from Kate Russell (a presenter on the BBC programme Click) about how she was introduced into a male dominated world of tech reporting. This then fed into the first panel of the day which focused on women in STEM and technology, with the key emphasis on, "Don't take a 'no' as a rejection; rather use it as a learning opportunity." It was enormously insightful because many of us had never seriously considered a role in technology. This first talk was brilliant because it not only showed us what we could achieve with hard work, but also reminded us that we should always believe we can do something and try it even if we don't necessarily have the full qualifications needed because you never know if you will be good at something unless you try it.
We then went onto the second panel which was on finance roles, so this had several employees of Merrill Lynch as well as other speakers who had or have jobs in finance and banking. This was really fascinating and certainly opened my eyes to the different opportunities within the fields that I'm stronger in. After the second panel we had lunch where we were joined by female representatives from the Bank of America Merrill Lynch. We were able to talk to them and ask them questions about their jobs within the bank and their experiences which was hugely informative. One of the main things my table learned was that you should always be open to new challenges and have fun as you go forward.
After lunch there was the final panel which was on scientific innovation. This was really interesting as the speakers all had very different roles and fields of expertise. They detailed how, in a male dominated world, you need to be ready to stand out from everyone else. It is important to find something you really like and work hard at it; this will help you to succeed.
The conference was concluded by a closing address from the Head of Mulberry School for Girls, who had organised the day.
The day was both fun and informative, and we all came away with a feeling of excitment about all of the different opportunities available in roles that are STEM or finance focused.