Remembering Don Sidaway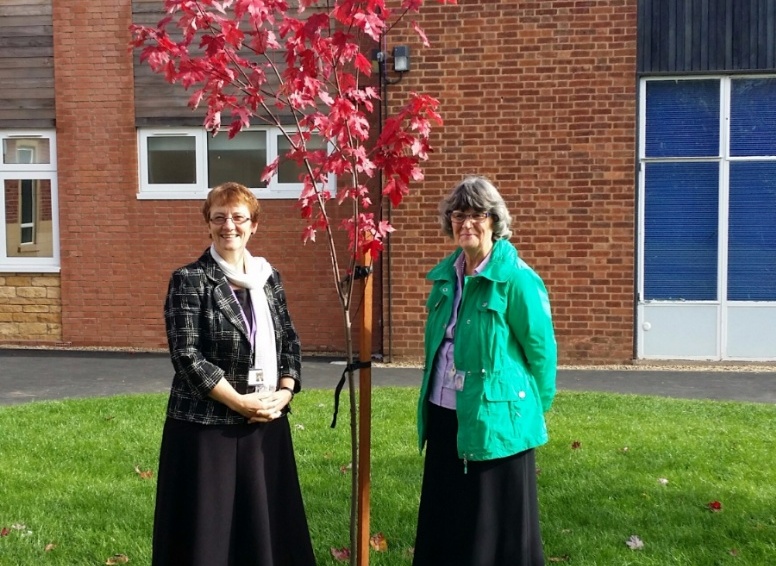 Earlier in the autumn term, on a crisp and sunny morning, a beautiful tree – an Autumn Blaze (Acer Rubrum) – was planted in a newly sown lawn outside the staff room, in memory of a much loved member of the Shottery family: Don Sidaway, who passed away in August 2013.
But who was Don, and how did he come to be a part of the Shottery family?
In the late 1990s, Don's daughter Sally worked in the personnel department at Marks and Spencer and was regularly in touch with the Headteacher of the time, Roger Stanbridge, to obtain references for the Shottery girls that applied for part-time jobs around their schoolwork. In 1997, Don retired from his job as an engineer at SECO in Alcester and despite having a large number of hobbies which included bee-keeping, archery, wood carving, shooting and archaeology, Sally encouraged him to get in touch with Shottery, who were looking for exam invigilators. Don was a little bemused, telling Sally he had no idea about exams anymore, but nonetheless he got in touch with Diana Woods, who was the Deputy Head. Diana immediately asked him to come in and get started, and so a month later Don was trained up and invigilating.
Don loved working at Shottery and twelve months later he started to help with lesson cover. His wife Margaret remembers that the girls asked him what they could call him, saying that Sidaway was too much of a mouthful! They came up with Mr Sid, and the name stuck forevermore. When they asked him whether he owned a mobile phone, he proudly told the girls that of course he did, so they showed him how to play 'the snake game' on it, which he went on to become completely addicted to, and drove Margaret mad with the constant 'blipping' sound!
Don will be remembered for his involvement with Shottery in a number of ways: his calming presence in exams, sharing sherbets and Werthers during class, an extra pair of hands in DT lessons, using his bee-keeping expertise to move a swarm from the school grounds (he always kept his kit in his car!) and much more. Some may remember Don's appearance on the front page of the Alcester Chronicle as a result of him having a human skeleton in his garage! Thankfully, the explanation was not as sinister as it sounds – it was a Roman artefact and he was simply storing it before it was collected and taking to the Warwick Museum!
We are thrilled to have planted a tree in the school grounds in his memory, as it will serve as a reminder of his kindness, sense of humour and constant willingness to help others.
Donald Malcolm Sidaway
1936 – 2013