Christmas Concert 2015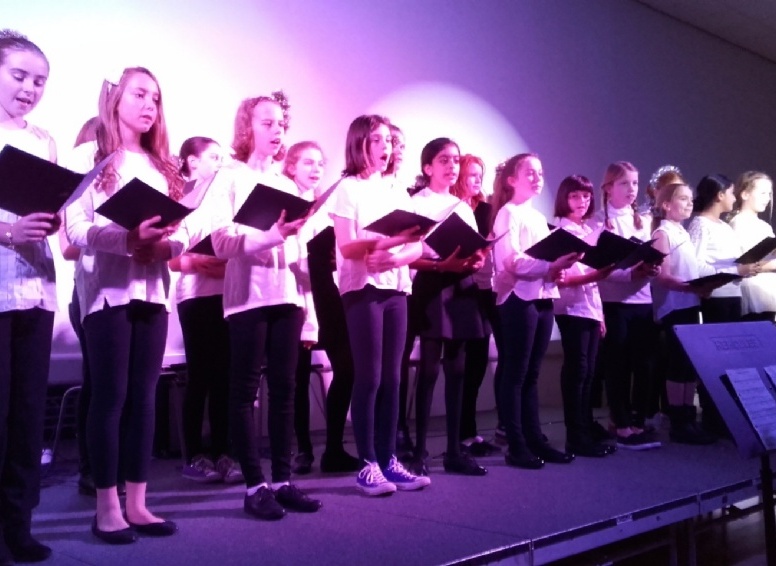 This year's Christmas Concert was a Christmas Concert with a difference – and not just because it was the first in our new Hall, and therefore the first to benefit from our swish new lighting and sound system! No - this was something special because it was genuinely student-led. Here, Headteacher Ms Barnett tells us more.
When the plans for a major school production of The Lion King at Christmas were first mooted back in the summer, everyone was really enthusiastic. But then the realisation dawned amongst some of our sixth formers that there therefore wouldn't be the traditional Christmas concert. Consternation! With a cast, crew and orchestra of over 150 girls, everyone would be too busy rehearsing for the musical. But perhaps not all of our many talented ensembles…? And that's when the idea of a student-led concert began to take shape. Robyn Saunders and Beth Ayres (both in Year 13) came to see me in September to ask whether this might be a possibility, I cross-examined them on the feasibility (and wisdom!) of doing this in their Year 13 autumn term, they reassured me that the ensembles would be rehearsing pieces through the autumn term anyway and would welcome a showcase, I encouraged them, we identified a possible date, Dr Jones and Mr Atkins agreed to support them… and the rest is history!
The outcome on Thursday 3 December was an extremely polished and professional concert – and a real tribute to the strength of student leadership in the school. Never underestimate these girls and what they can achieve when they put their minds and talents to it and work together! I was one very proud Headteacher, and I'm sure there were very many proud parents in the audience too.
Alice Harvey and Beth Ayres were our hosts for the evening, and there was a large supporting team of sound, light and stage crews, led by Grace Duff (sound) and Lily Butcher (lighting) as well as help from the sixth form Events and Charities Committees, but the main credit must go to Robyn for being the mastermind of the whole show.
The groups we heard from were:
Jazz Band, currently preparing for a tour to New York in October 2016
Violin Quartet: a Year 8 group who organise their own rehearsals
Year 7 Choir, run by Beth Ayres
Tutti Fluti: a group of advanced flautists led by Eleanor Hodgson
Georgina Cherry and Robyn Saunders playing Poulenc's Piano Sonata for Four Hands
Songbirds: a Year 13 close harmony quartet
Junior Jazz Band, directed by Robyn Saunders
Issy Hardy and Lucy Harwood who sang a duet, accompanied by Beth Whitwell
Sax Quartet: a student-led group
Daiya Dhillon, supported by Robyn on piano, Megan on sax and Sofia on drums
Chamber Choir, our prize-winning premier choir.
Well done, all of you, and thank you: it was a fantastic evening!
Ms Kate Barnett, Headteacher