Christmas Production - The Lion King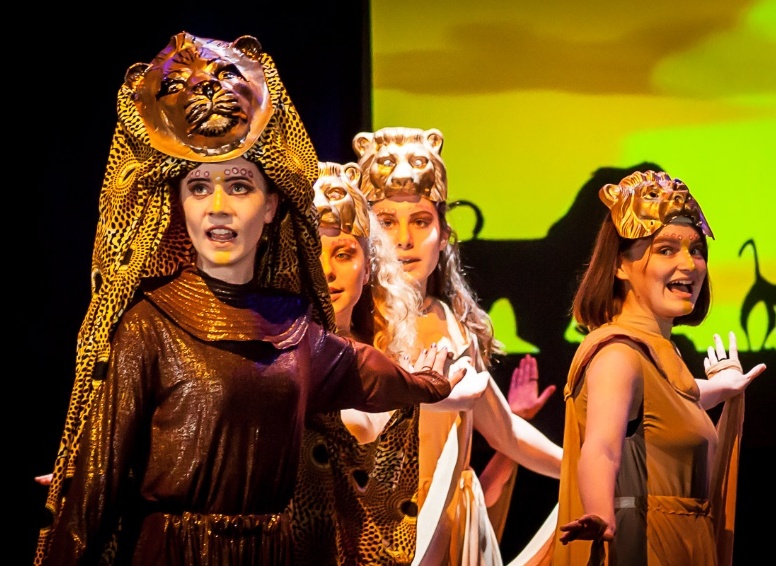 Deputy Head Girl Alice Harvey tells us more about the amazing production this year of "The Lion King". For those that managed to get tickets, it was an incredible evening of creativity and imagination - the girls did a fantastic job!
On the evening of the 9th and 10th of December, an unsuspecting audience was transported to the sun-soaked pride-lands of the African Savannah in an all-singing, all-dancing, star-studded spectacle of everyone's childhood favourite, "The Lion King".
Performed in-the-round with a cast of 150 girls of all ages and a live band made up of our very own talented musicians and conducted by sixth former Issy Worrall, this year's musical proved to be our most ambitious yet; but with the help of our shiny new school hall, the hard work of everyone involved heartily paid off and what followed was a dynamic and imaginative production that swept the audience well and truly off their feet. With such talent on display left, right and centre, it really was hard to pick a highlight.
We began proceedings with a whole-cast, fully-staged rendition of The Circle Of Life, led by soloist Izzie Stock (Year 9) playing the eccentric Rafiki, and the audience looked on in wonder as elephants, hyenas, buffalo, gazelles, giraffes, birds and lionesses filled the stage in a visually dazzling display of the Savannah; and all to bless the newborn heir to the throne, Simba.
What followed from there was an extremely energetic and engaging performance. With the help of his noble fantastically acted "duomo" Zazu (Eleanor Beckett), King Mufasa (Alice Harvey) taught the young king-to-be lessons in understanding and bravery with an emotional performance of They Live In You. But before long, his evil and jealous brother Scar (Ciara Willson) plotted with the three utterly brilliant hyenas Ed, Banzai and Shenzi, to kill the King and claim the throne; featuring a brilliantly menacing rendition of Be Prepared, which left us all quaking in our boots. The drama culminated in a nail-biting stampede, complete with vocal sound effects from the impressive ensemble, in which Mufasa dramatically fell, in slow motion, to his tragic death. Scar immediately placed the blame on the young Simba (Maisie) and banished him out of the pride-lands for good - or so he thought.
Here Simba met comedy duo Pumba (Beth Ayres) and Timon (Alice), who soon adopted him as one of their own with a lively and hugely entertaining version of Hakuna Matata. Meanwhile, the pride-lands fell apart under the rueful rein of Scar, leaving Nala (Izzie Scanlon), the beautiful and courageous childhood sweetheart of Simba, with no choice but to seek help. After a powerful rendition of Shadowlands, she left Pride Rock where, to her surprise, she bumped into the now-fully-grown-and-dazzlingly-handsome Simba (Lily Robson). Cue a heart-wrenching performance of Can You Feel the Love Tonight?, complete with surround-sound vocals from ensemble members waving multi-coloured tea lights, and it's safe to say that love was most definitely in the air. However Simba needed a little more persuasion from Rafiki, who reminded him of his father's wise words with a reprise of He Lives In You; and Simba soon learned where his responsibilities lay, racing back home to overthrow Scar and claim his rightful place as King.
After a tense showdown between Simba and his maleficent uncle, justice was finally restored to Pride Rock. The emotional journey ended with Simba taking his place as King with Nala by his side and his father watching over from above. As you can imagine, there was barely a dry eye in the house!
In a nutshell, Stratford Girls' Grammar's production of "The Lion King" was nothing short of a triumph: brightly coloured costumes and carefully thought-out makeup; intricate and detailed lighting designs, from dark and menacing red gels to soft jungle-green hues; elegant and enchanting dance routines from various groups of dancers; powerful and expressive vocals from both lead actresses and the impressive ensemble; the musical talent displayed by the band, not to mention the expert way they managed to coordinate the underscore music with the on-stage action and keep all 150 cast members in time. It was a great tribute to the strength of community in the school, too, with girls from across the school coming together to deliver a truly mesmerising performance.
All that remains to be said is a huge congratulations to everyone who was involved, with particular thanks to Mrs Barrett, Mrs Frater and Dr Jones for such fantastic direction. It was a performance to remember.
Photographs courtesy of Mark Taylor, Taylor&Taylor Photography. Please check their website for more images available to purchase. Thanks to Mark for his time and effort.