Year 13 Chemists Visit Warwick University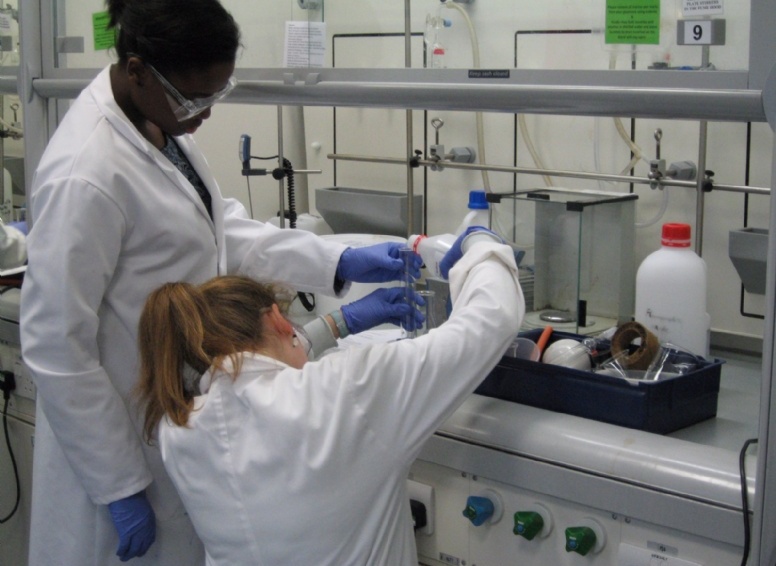 On Tuesday 15th December 2015, Year 13 Chemistry students had the opportunity to experience a day working in the undergraduate chemistry laboratory at Warwick University, which was led by Professor Nick Barker. Here, Year 13's Stephi tells us about their day.
In the last week of term, we made our way to Warwick University to spenda fascinating day in their undergraduate chemistry laboratory, under the guidance of Professor Barker.
This insight allowed us to experiment making benzoic acid crystals by hydrolysation and substitution methods followed by filtration and recrystallisation. In our groups, with the guidance and assistance of several PhD students on how to undertake procedures and how to operate the somewhat unfamiliar equipment, we were able to follow the laid out procedure.
The end product (benzoic acid) was then scrutinised further for its melting points as well as purity. We then had the opportunity to undertake Thin Layer Chromatography (TLC) - a quick test to also answer how pure our end product was. A chance was also provided for us to attempt using the infrared spectrometer, which was something that we have learnt about but have not known its actual use in practice.
Throughout our time at Warwick, we were able to question the PhD students on their experiences of different branches of Chemistry which helped us enormously to gain a better understanding of the courses offered in the particular fields.
There was no doubt our practical experiments were a great learning curve for us all, but the most important aspect was a feel for being an undergraduate chemist, especially at Warwick University. We all obtained an understanding of how big, but achievable, the step up would be.
Overall, it was a fantastic day as it gave us an idea on how laboratories function at universities, giving many of us a head start with the type of work we hope to do in our academic career in the years to come.