Drama & Theatre Studies
Introduction
Creative people are in demand and employers are switching on to the need for people who are adaptable and good at generating fresh ideas. Students of Drama and Theatre at Stratford Girls' Grammar develop skills that are not just essential for Drama but applicable higher education pathways and in the workplace. Drama is recognised as a discipline which promotes analytical exploration, facilitates the development of emotional intelligence, therefore, broadening the life opportunities of our students. Our team of experts use their knowledge of theatre to engage with a wide range of practitioners and styles, fostering a deep appreciation of theatre and performing arts.
Sixth Form Curriculum
Our outstanding Drama Department provides a vibrant environment where students can extend their practice as theatre practitioners through tailored practical workshops and tutorial support. Specialist staff are highly qualified and skilful, supporting students in their studies and towards their chosen destinations beyond A-level.
Lessons take place in an excellent, purpose-built Drama studio, allowing students to engage in all areas of Drama and theatre. Students frequently direct performances and have an active voice in the life of the department. Theatre is evolving all the time and by watching live performance students are introduced to new styles and techniques. This in turn, influences practical work and develops a strong critical eye for this artform.
There are many opportunities at SGGS to work with visiting theatre practitioners and our practical workshops provide considerable opportunity beyond the set texts. Students can also participate in and lead extra-curricular activities such as Drama Clubs or school performances to broaden their experiences even further. We also offer LAMDA as part of our curriculum enrichment programme to our A Level students.
It is not essential to have studied GCSE Drama, however, experience of live theatre as a performer, designer or audience member is essential. Above all else, you must show an interest in creativity, imaginative ideas and a desire to collaborate with others. If you want to learn in an environment where creative risk taking is nurtured and celebrated, this course is for you.
Resources
Click the exam board logo below for exam specification: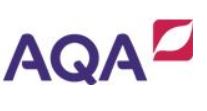 Gallery
Year 7 and Year 12 Celebration of Shakespeare's Birthday 2021
Year 7 and Year 12 have been working on a project to celebrate Shakespeare's birthday this year. Usually, the Bard's home town of Stratford-upon-Avon holds an event on the Saturday nearest his birthdate. Large processions of well-wishers bearing posies, a fancy-dress parade of well-known characters from his plays, flag waving, wreath laying at the church where he is buried (Holy Trinity Church), folk dancing and street entertainment. The Head Boy of the local school carries a new quill in the parade so that the Bard's tomb receives a new pen. Of course, with the pandemic, celebrations were not held this year but SGGS marked it with vox pops of Year 7 and Year 12 students reading famous quotes from Shakespeare's plays and sonnets: