Chemistry
Introduction
The Chemistry Department at Stratford Girls' Grammar School is dynamic, creative and highly successful in their dedication to the education of girls. Our teachers are vastly experienced in a variety of fields of Chemistry, passionate about their subject and focused on making Chemistry relevant to all students regardless of their ability. Our teaching aims to stimulate curiosity and encourage students to challenge themselves academically.
Key Stage 3 Curriculum
Please see the separate information about Science in Year 7 and Year 8. You can find this on the menu to the right.
Year 9
In Year 9, girls will develop their interest in and enthusiasm for their chosen subjects out of Biology, Chemistry and Physics; developing a critical approach to scientific evidence and methods, acquiring and applying the skills, knowledge and understanding necessary for further study. Although we begin teaching Science as separate subjects at this point, students will have been introduced to many GCSE concepts already and will be able to draw on these ideas with confidence as they progress. In Chemistry, this takes the shape of investigating fundamental ideas, metals, crude oil, products from oil and the periodic table.
Key Stage 4 Curriculum
At Stratford Girls' Grammar School, we help our students to acquire and apply skills, knowledge and understanding of Chemistry to develop a critical approach to scientific evidence and methods. This helps them to decide whether claims made in the name of Chemistry are reasonable.
SGGS allow students to develop their interest and enthusiasm for Chemistry at their own pace and will help them to recognise its increasingly essential role in society. The Chemistry Department also provides opportunities to engage with the Olympiad and National Chemistry competitions, University visits/workshops and Science expeditions such as trips to Borneo.
Topics of study at GCSE include: atomic structure and the periodic table; bonding, structure, and the properties of matter; quantitative chemistry, chemical changes; and energy changes. Students will also learn about the rate and extent of chemical change, organic chemistry, chemical analysis, the chemistry of the atmosphere and using resources.
The Chemistry department at SGGS aims to give students a glimpse into the extraordinary possibilities and variety of opportunities available if they wish to study the subject beyond GCSE and A-level, which many of our alumnae have gone on to do.
Resources
Click the exam board logo below for the exam specification :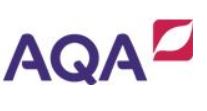 Gallery